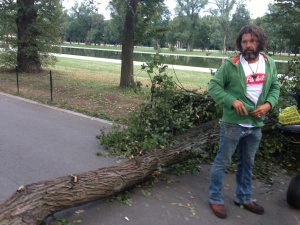 WASHINGTON (CBS5) -
Many National Park Service workers are furloughed because of the government shutdown, but a South Carolina man is taking it upon himself to clean up Washington's memorials until they get back to work.
Chris Cox calls himself the Memorial Militia. He is taking out the trash, blowing away leaves and using a chainsaw to clear branches around the National Mall.
"Well the day the government shut down I was watching the news and they wouldn't stop talking about how vulnerable our monuments are, our memorials, and that concerned me," Cox told
CBS Washington.
Cox said it's important to him that the veterans who visit the Capitol find it in good shape in time for this weekend's Million Vet March.
He has been asked by Park Police to occasionally stop what he is doing, but Cox says he plans to be there as long as the government is shut down.
He carries the state flag of South Carolina while he works.
Copyright 2013 CBS 5 (KPHO Broadcasting Corporation). All rights reserved.