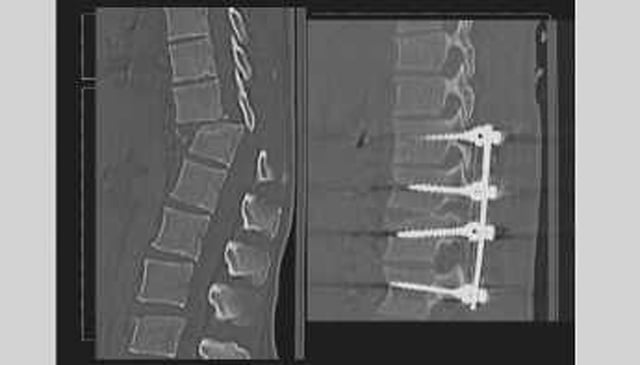 Amy's X-ray on the left shows her spinal injury after the accident. On the right, screws were placed to repair the break. (Source: CBS 5 News)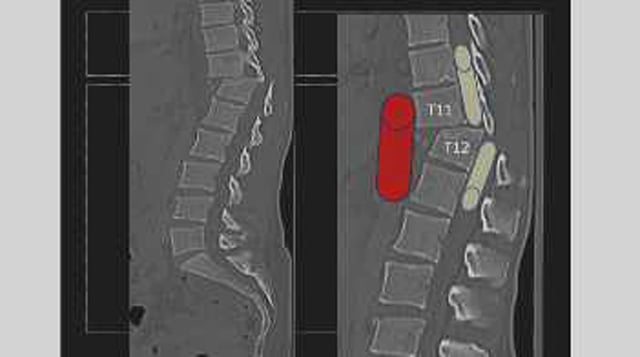 The break occurred between the T11 and T12 vertebrae. (Source: CBS 5 News)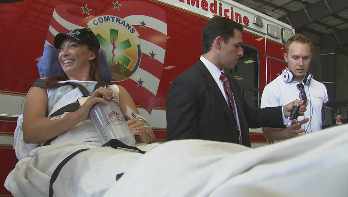 Amy Van Dyken-Rouen was transferred Wednesday to a Colorado hospital. (Source: CBS 5 News)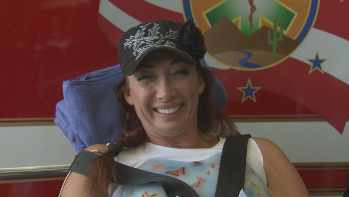 Amy Van Dyken-Rouen (Source: CBS 5 News)
SCOTTSDALE, AZ (CBS5) -
Olympic swimmer Amy Van Dyken-Rouen has transferred to a Colorado hospital to continue rehabilitation from injuries she suffered in an all-terrain vehicle accident two weeks ago.
Van Dyken-Rouen took a medical flight from Scottsdale to Denver on Wednesday so she can rehab at Craig Hospital, which specializes in spine injuries.
The six-time gold medalist severed her spinal cord and broke several ribs in the June 6 ATV crash near Show Low. She had no feeling in her legs and feet after the accident and said last week that she is still paralyzed.
She remembers just before emergency surgery that her doctor told her she might not make it.
"It was one of those things where I looked at my husband and said goodbye," she said. "I told him to move on and gave him permission, which wasn't easy."
She is facing the possibility of never walking again with extraordinary grace and bravery.
"Right now I look at it this way," she said. "I'm going to get the best wheelchair ever and make it so cool. I'm going to do skull and crossbones because that's my thing and I'm going to make it purple. I'm going to do my hair to match my chair and I'm gonna rock it out."
Van Dyken-Rouen was the first American woman to win four gold medals in one games at the 1996 Atlanta Olympics and won two more at Sydney four years later before retiring from competition.
Copyright 2014 CBS 5 (KPHO Broadcasting Corporation). All rights reserved.