Solar power education in Region 8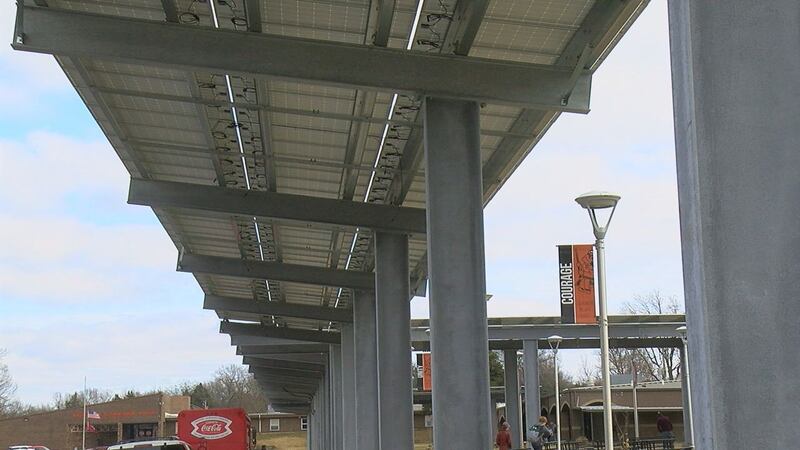 Updated: Dec. 3, 2018 at 5:50 PM CST
BATESVILLE, AR (KAIT) -One school district saves money by being energey efficient and educating students at the same time.
The Batesville School District is using solar power to offset electricity costs, and helping students position for possible clean energy careers.
The school district installed a $5 million solar power system that is expected to make about $100,000 worth of electricity per year.
This will save the district about $2 million over a 20 year period.
According to Batesville High School Principal David Campbell, energy costs have been steadily increasing about 2% each year.
In ten years, the district would be paying 21% more than the current rates.
"We're also building an area to the rear of our campus," Campbell said. "It will actually be a solar farm and those panels will attract the sun which will be a lot more efficient."
Campbell said that the district expects to be energy "net-zero" in twenty years, meaning enough electricity is produced by the district to satisfy how much is needed.
In addition to an array of panels being installed on open land, the school will install panels over the pavilion in front of the gym and high school.
Campbell also explained that students will gain opportunities for learning and engagement related to solar energy and building energy efficiency.
Project contractor Entegrity provides school clients with a "Trak" program that incorporates an educational element for students and school stakeholders.
The students would also be working with honey bee farmers to plant foliage under the ground panels to reduce maintenance and make honey.
Campbell said the money saved by installing the solar power system will be used to recruit and retain staff.
Batesville School District Superintendent Michael Hester said the solar panels are expected to be put on grid sometime in Dec. 2018.
Copyright 2018 KAIT. All rights reserved.