Gr8 Acts of Kindness winner helps cancer patients through rough times
Updated: May. 29, 2019 at 10:46 PM CDT
JONESBORO, Ark. (KAIT) - Kindness is appreciated throughout our lives. But, perhaps especially at the times when life is most difficult. When all hope is sometimes lost and struggle is a day-to-day occurrence.
"In June of last year, I was diagnosed with pancreatic cancer," Aubrey Cook said. "The pain is tough and then to know there's caring people... that makes all the difference."
It's a Tuesday morning. Time for Cook's treatment at the Ben E. Owens Cancer Center in Jonesboro.
"I feel at home here," Cook explained. "They have kept me alive."
But, one person in particular, according to Cook, goes out of her way to help.
"Of course, she knew something was going on as a cancer (patient) coordinator," Cook said.
Angie Brady is Cook's patient care navigator.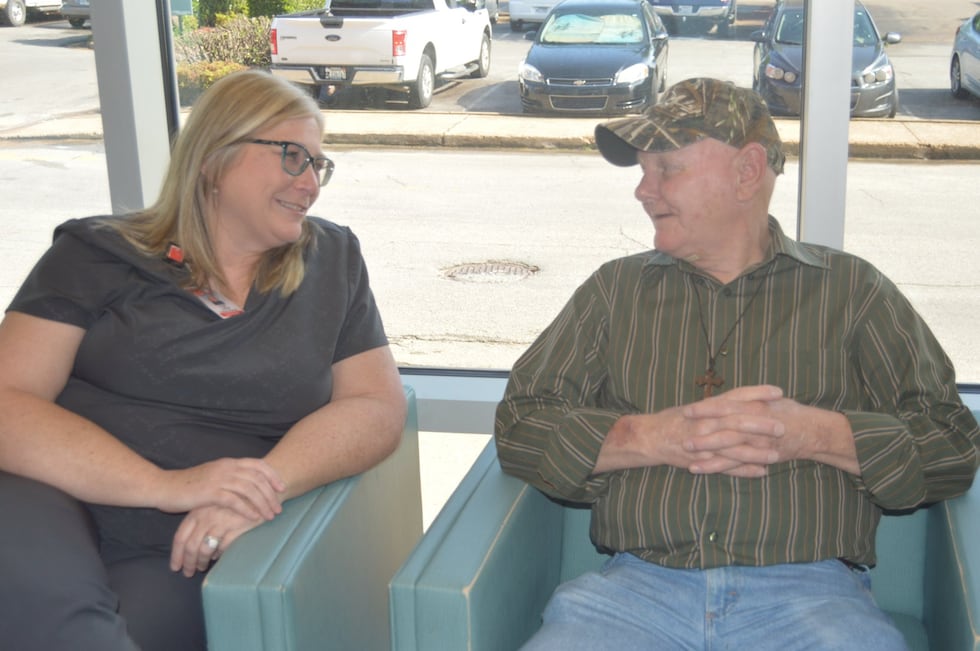 "Through the kindness of her heart and without letting me know... she helped me, and at a time that I really needed some assistance," Cook said.
Brady knew Cook needed groceries. So, she went and bought them herself.
"I'm not the only one that's helped him out," Brady said. "I may be just the one that has taken things to him. But, all of our staff is good about that."
Brady has her Master's degree in Social Work, but her kind of caring isn't taught--it's just who she is.
"Angie is our angel," Dr. Mazen Khalil explained.
Mazen Khalil is a doctor of oncology and hematology at St. Bernards.
"She looks at their needs, their groceries, their home, what type of services they need," Dr. Khalil said.
"We even had a patient. It's been a couple of years ago that was from another country," Brady said. "His cancer was very advanced and he needed to get home with his family. We all chipped in and got a plane ticket for him. That's the kind of staff or people that I work with."
That caring spirit took Brady all the way to New York City after 9-11, as part of the Craighead County Crisis Response Team.
"Sometimes we just get so busy and we don't know about it. How precious life is and we need to be there for each other, love one another and all the evil in the world needs to go away," Brady said. "Because we need to be there and focused on each other and making life better."
Making life better is why this happened.
"Knock, knock," Connie Hill, Vice-President of St. Bernards said outside of Brady's office. "There's some people here to see you."
"Are you Angie Brady?" I asked navigating around a corner.
Brady's eyes transfix on the large delegation of people gathered outside her office.
I asked her to come outside her office so that the crowd can better see what is about to happen.
"You help people at a most difficult time in life," I said. "When they're facing the biggest struggle... a fight with cancer. Some of them will make it, and others do not. A lot of people wouldn't want your job. But, you do it so well. You pour your heart and soul into everything you do with helping these individuals."
That's why you are the next winner in the Gr8 Acts of Kindness.
"One hundred, two hundred, three hundred, four hundred, five, six, seven, eight. $408 dollars for winning the Gr8 Acts of Kindness," I count the money Brady's won into her hand.
"Congratulations!" Allen Williams, Community President of First Community Bank, sponsor of the Gr8 Acts of Kindness.
"She's touched and helped so many people that I've talked with here," Cook said. "She gave us courage to keep going and to not give up and that she will be there for us throughout whatever happens. That's Miss Angie Brady!"
Copyright 2019 KAIT. All rights reserved.