$25,000 reward offered for information in Rebekah Gould murder case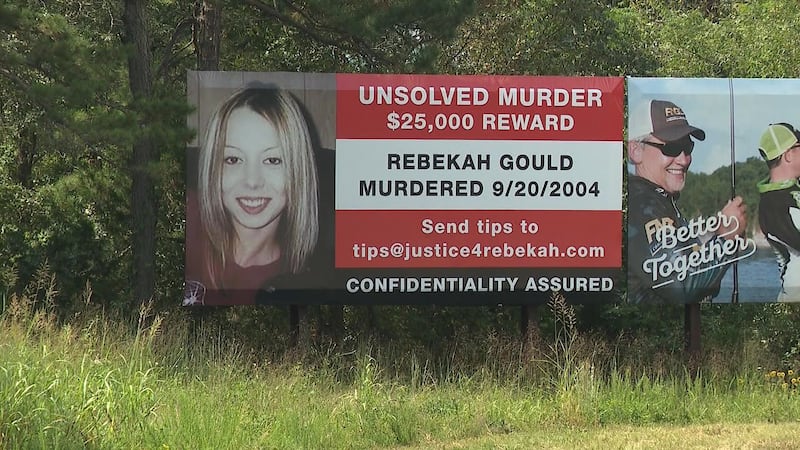 Updated: Sep. 12, 2019 at 5:36 PM CDT
IZARD COUNTY, Ark. (KAIT/KATV) - It has been nearly 15 years since the body of 22-year-old Rebekah Gould was found in a ditch in rural Izard County.
Now, a $25,000 reward is being offered for information leading to an arrest and conviction in Gould's death, according to a report from Little Rock television station KATV.
KATV reported that Gould had reportedly been last seen taking a friend she had been staying with to work at Sonic. The young woman had enrolled at Northwest Arkansas Community College, with a goal of attending the University of Arkansas.
Gould was scheduled to meet with her sister before going back to the Fayetteville, Ark., area but never arrived.
"A welfare check of the home she had been staying in showed signs of a struggle, a bloodied mattress flipped over, leading investigators to suspect foul play was involved in her disappearance," KATV reported. "A search effort ended when a local woman reported smelling a foul odor and seeing buzzards flying near her home. Authorities discovered Gould's body in a state of decay - dead from apparent blunt force trauma to the head."
A billboard was put up outside Melbourne this week, asking for information on the case.
Officials with the Arkansas State Police confirmed that the case is open and active with investigators looking to receive any new information from witnesses or evidence in the case.
"In recent months, Special Agents assigned to the Arkansas State Police Criminal Investigation Division have followed up on leads in the case and worked closely with Arkansas State Crime Laboratory forensic experts," ASP told KATV.
Officials also said they consulted with prosecutors about the cash reward issue, but noted they believed friends and family should be in control of the issue.
"Commanders within the Arkansas State Police consulted with the prosecuting attorney of jurisdiction about the offer of a cash reward. In the interest of protecting the integrity of the case, there was a consensus that it would be left to the friends and family to coordinate the reward publicity and administer the distribution of any cash under the terms they may choose," ASP told KATV.
Anyone with information on Gould's death can contact Arkansas State Police or their local law enforcement agency.
Copyright 2019 KAIT. All rights reserved.