Improper turn leads to drugs, stolen gun discovery during traffic stop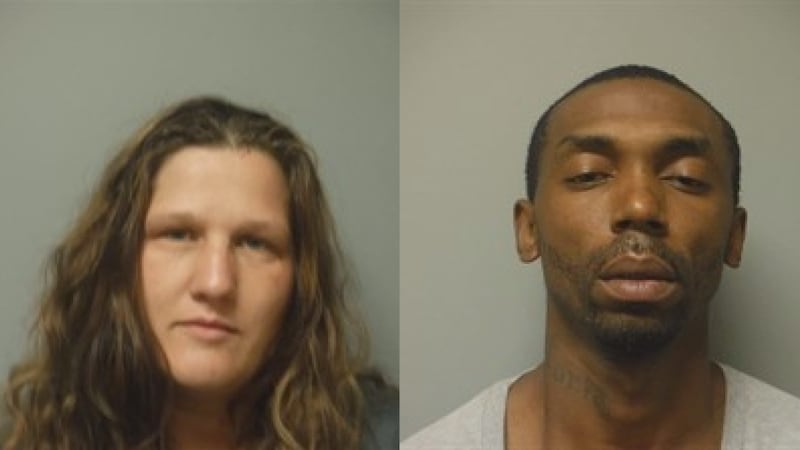 Updated: Sep. 12, 2019 at 9:28 PM CDT
JONESBORO, Ark. (KAIT) - An improper turn during a traffic stop has two people facing multiple charges, according to Jonesboro police.
Emanuel Darrell Sanders and Aundria Lynn Williams were arrested Sept. 11 after Jonesboro police pulled over a vehicle near the intersection of Drake and Hoover Streets.
According to a probable cause affidavit, Sanders failed to use the proper turn signal and police knew that Sanders was on parole.
Officers found meth, cocaine and marijuana during a search of Williams, as well as a meth pipe in the center console of the front seat, police said in the affidavit.
Officers then searched the trunk.
"Inv. Talley searched the trunk of the vehicle and found a Raven Den Arms .25 caliber pistol in a men's bag in the trunk that was later determined to be Sanders. The pistol was unloaded but the magazine had four rounds inside it, lying in the bag as well," the affidavit noted.
The pistol was also reported stolen with the Independence County Sheriff's Office.
Sanders was arrested on suspicion of possession of firearms by certain persons, possession of drug paraphernalia and theft by receiving-firearm less than $2,500.
Williams was arrested on suspicion of possession of meth or cocaine less than two grams, possession of meth or cocaine less than two grams and possession of schedule VI less than four ounces.
A $100,000 bond was set for Sanders during a probable cause hearing Thursday, while a $1,500 bond was set for Williams.
Both Sanders and Williams will appear in circuit court Oct. 22.
Copyright 2019 KAIT. All rights reserved.