Gr8 Acts of Kindness winner shares her heart
Published: Feb. 27, 2020 at 11:29 PM CST
PARAGOULD, Ark. (KAIT) - Kindness sure can go a long way!
Sometimes, it can even change lives.
Amie Cole leads a campaign for kindness every single day... and the more you get to know her, the more you understand why.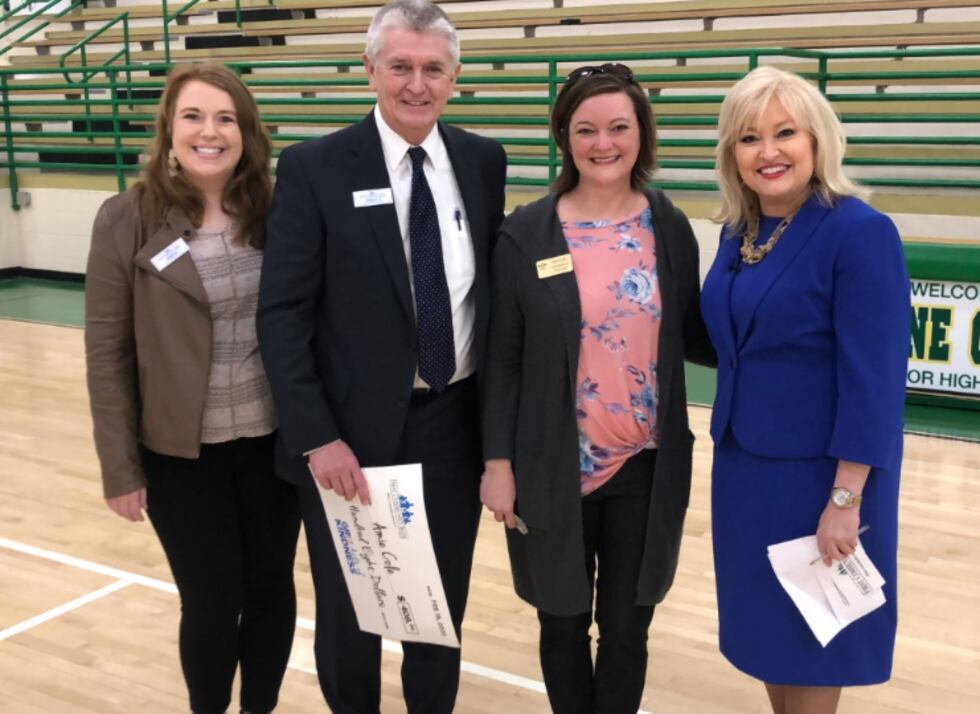 But, first, it's time to surprise her.
"We have an honor for Miss Cole today," Ryan Carpenter, Asst. Principal, Greene County Tech Intermediate. said.
Perhaps one of the biggest surprises--seeing as how teachers and students had to sneak out of the building and into the gym without their principal seeing them.
And finally it was time for the moment everyone was waiting for...
"Surprise!"
The entire gymnasium erupts into applause.
Cole thinks she's coming to the gym to see her daughter.
But, upon seeing the entire gymnasium packed with students and her family, Cole is overwhelmed.
Her hand covers her mouth.
"Each one of these kids... you work so hard to get to know them individually and send them positive notes of encouragement," I said.
"In the kindness campaign, you've challenged your teachers to research projects and find ways to help in the community. I think there was a sock hop where they gathered socks. Kids do you remember that..when you gathered socks for the homeless? That started with you," I said.
"All of these wonderful things have come from your heart and the blessings you bring forth and bestow on these kids and from what I'm told is that your heart doesn't stop when the school day is over.. you love them in and out of school," I stated as Cole looked on in shock.
"She comes to school daily knowing that these kids need a relationship first before an education," Carpenter said.
Carpenter witnessed the real depth of Cole's convictions this past year when three siblings were about to be separated and placed in foster care.
"That was one of the most inspirational things that I've ever been a part of that day when it all happened," Carpenter said. "She, without hesitation, said, 'They can come with me.'"
"I didn't know if they would stay together and I can't imagine what that feels like for a parent or for a child," Cole said. "And so I just thought, what would I want someone to do if that were me? If that were my child."
Amie knows what it's like to be that child... adopted as a baby and raised by Mike and Dian Carlton.
"I could have never asked for a better childhood," Cole said. "If I could have written the perfect childhood story, I had it. Not every kid gets to have that. I said God put me here for a reason. I have that experience and that knowledge that things could have been so different.
"So I always try to remember that. Somebody made a choice 44 years ago that set my life in motion, so if I can ever help somebody in that same way... then that's what my heart tells me to do," Cole said.
That heart is big... as she and her husband took on three children inside of just a few hours.
"But they had a place to stay that night together," Cole said.
With Principal Cole, kindness is key and she encourages them constantly.
"She tries to make it where everyone feels safe instead of always feeling like we're going to be bullied or something," Jaedan Whitworth, 5th grade Greene County Tech Intermediate School student said.
"I remember this time last year, she wrote a note to every student and mailed it to them," Benton Farmer, 5th grade Greene County Tech Intermediate School students said. "She is really acceptive of things and never says no. She's super kind and always caring."
"We are so excited to let you know that you are the next winner in the Gr8 Acts of Kindness," I said to Cole, as I counted $408 into her hand.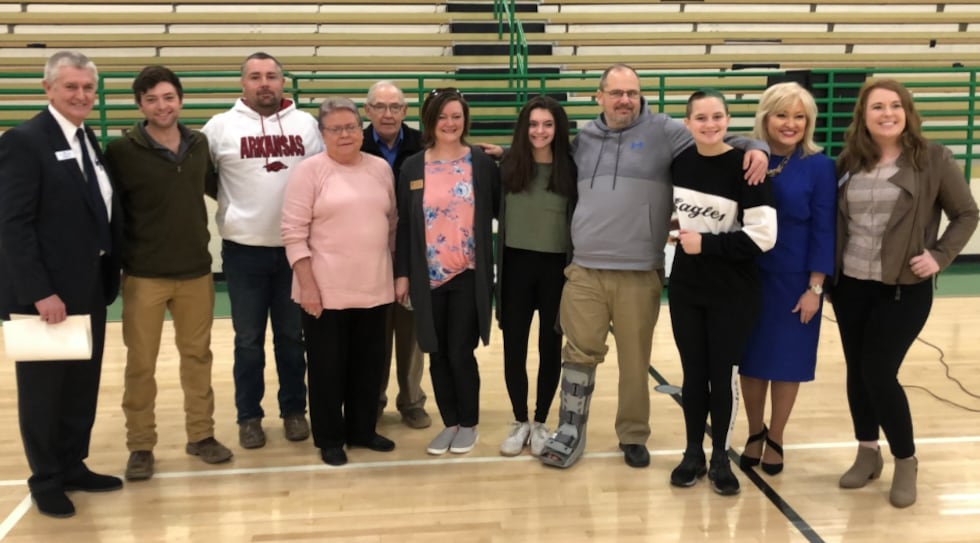 "I think Miss Cole is a good representation of the things that you've done in this building and for these three girls," David "Coach D" Daniel, Business Development Officer at First Community Bank said. "On behalf of First Community Bank, we thank you for your Gr8 Acts of Kindness."
"We love you, Miss Cole!" shouted all the students in the gym.
What a great day we had celebrating Amie Cole!
Do you know someone like her... shares kindness everywhere she goes?
Nominate them for the Gr8 Acts of Kindness.
Just go to kait8.com and fill out the form.
Copyright 2020 KAIT. All rights reserved.