Husband of teacher who died of COVID-19 shares her last moments alive
"We remember her with love, and we will emulate her love of teaching as we care for our students."
Updated: Oct. 6, 2020 at 8:08 PM CDT
HARRISBURG, Ark. (KAIT) - Days after his wife, Susanne, died from COVID-19 complications, the widower of a Harrisburg School District teacher describes the last moments he saw her alive.
Keith Michael said Susanne, who died Friday, Oct. 3, started feeling sick Sept. 9, she got tested two days later. The test results came back positive on Sept. 14.
On Sept. 23, Keith Michael stated that she was receiving an antiviral and convalescent plasma at a local hospital. She was also placed on a ventilator.
At that time, there was some hope she would recover.
"Most people don't understand that COVID-19 and pneumonia go hand in hand," he said in a social media post. "The best news of the day is that they have decided to start seeing if she can tolerate coming off the ventilator."
By Tuesday, Sept. 27, he reported she had taken a turn for the worse.
"Her numbers have all gone backwards," he said on Facebook. "Her oxygen percentage was down to 40-45% and went up to 90% over the weekend. It is now down around 70%."
He added that she had completed all of the COVID-19 medications and antibiotics intended to treat pneumonia.
"They're trying to see if her body will try to pick up the slack and start to heal itself," Michael stated.
"I sat there, and I held her hand. I watched the monitors. I saw the heart rate coming down. Next thing I know, was it flat-line I looked at the doctor, and I said she's gone Isn't she, and he said yeah, she's gone. I sat there and held her hand. I could feel the life go out of her."
At 3:32 a.m. Friday, Oct. 2, he posted: "My sweet Susanne went home to be with the Lord tonight about 11:30. I got to go hold her hand until her sweet heart stopped. She's all I've known for nearly 30 years now."
Funeral services will be Saturday, Oct. 10, at 2 p.m. in Emerson Memorial Chapel, 1629 E. Nettleton Ave. in Jonesboro, with Bro. Jerry Kausler officiating. Visitation will be held before the service from 12:30 to 2 p.m. Emerson Funeral Home is in charge of the arrangements.
Keith and Susanne had two children of their own. Two months ago, they adopted three more.
Understandably, he's questioning why Susanne had to go so soon.
"You know we have a 22-year-old in college. Got a 16-year-old. And we just recently about a month and a half, two months ago, adopted three children. And I'm thinking to myself, 'you know, Lord, why don't you take her from me?' When we just adopted these kids," Michael said.
Keith hopes to be able to find peace.
"I hope the lord reveals it to me; why did he take Suzanne? Little two year old is missing his mama every night. He'd crawl up in her lap and say 'Mama itch my back' and she'd rub his back and she'd fall asleep. Those are the things I don't understand. Why did he let me get it and go?" Michael said.
Keith says he didn't think much about the last text Susanne sent him. He never expected that would be the last thing she ever said to him.
"On my way to the hospital, Suzanne texted me, this is the last thing she ever texted me, she said, 'I'm scared.' and that's the last thing she ever said to me," Michael said.
Keith believes that the school district did everything they could to keep teachers and students safe. However, he thinks that teachers' lives are at risk.
"Teachers are on the front line, just like doctors and nurses. I believe that they are putting their life in danger," said Michael.
Keith has a message for everyone, appreciate and love the people around you.
"I sure would have not thought that Suzanne's days would have been cut so shortly. And I don't care who you are, You tell your loved ones that you love them, you hug on your kids, because that last time you see them, that time you hug them or say goodbye, see you this afternoon, whatever it might be, it might be the last time you do get to see them," Michael said.
Susanne Michael was a graduate of Williams Baptist University, according to the Harrisburg School District.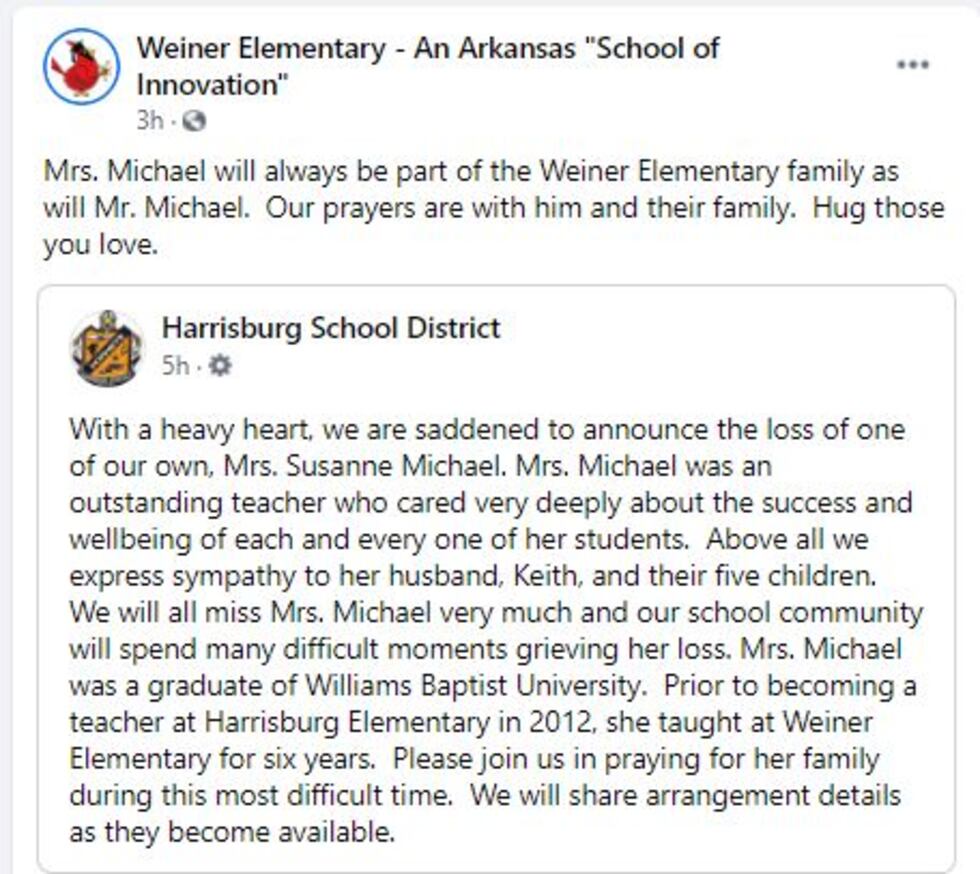 School officials also released a statement Friday.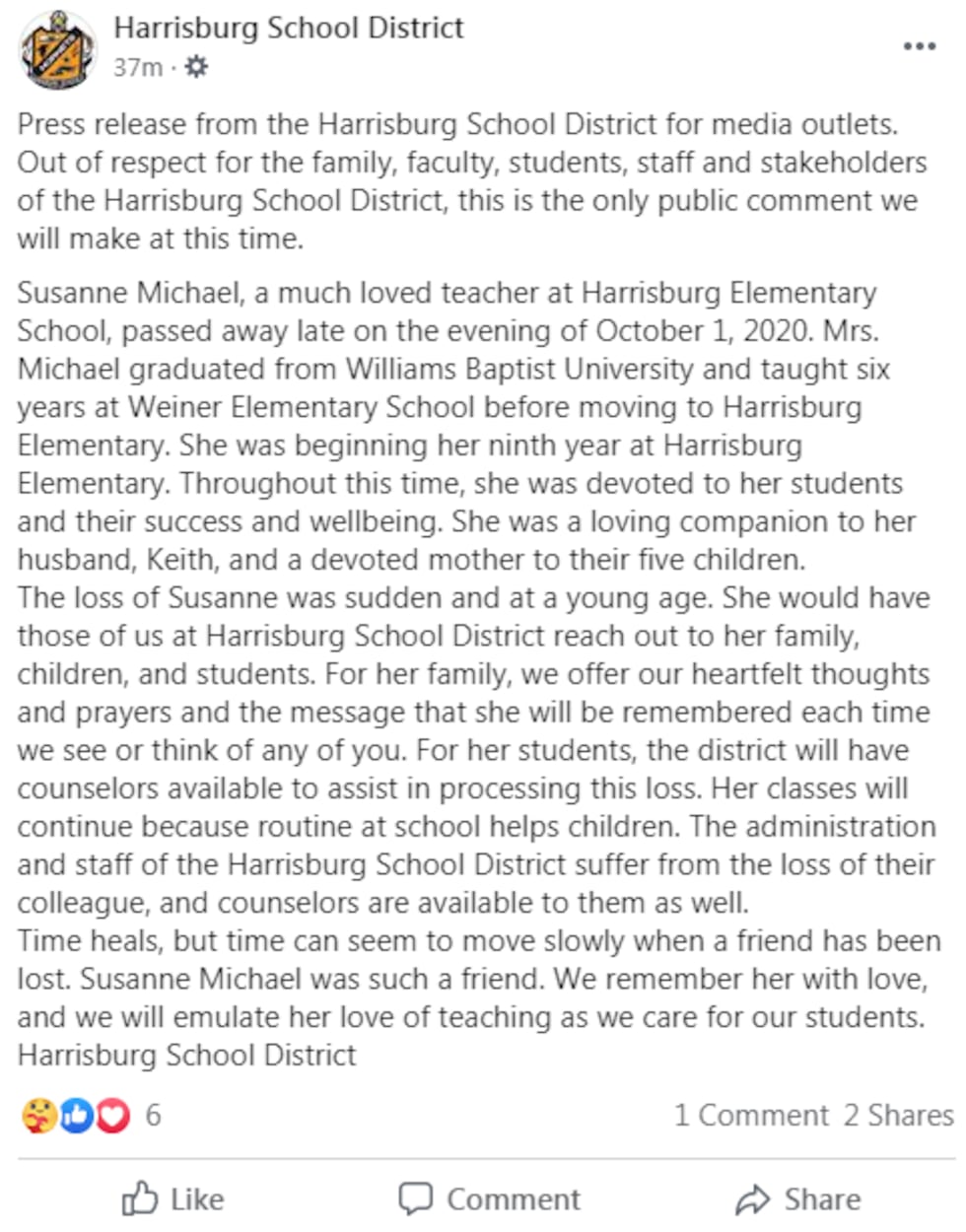 Michael, who lived in Jonesboro, began teaching at Harrisburg Elementary School in 2012. Prior to that, she had taught at Weiner Elementary School for six years. She was beginning her ninth year at Harrisburg Elementary.
Friday afternoon, the district released the following statement:
The funeral will be held on Oct. 10.
Copyright 2020 KAIT. All rights reserved.