22 years later: Remembering Arkansas' largest tornado outbreak
56 tornadoes touched down in the state between Jan. 21-22, 1999
Updated: Jan. 21, 2021 at 3:05 PM CST
JONESBORO, Ark. (KAIT) - Twenty-two years ago on Jan. 21-22, Arkansas saw its largest tornado outbreak in history.
On that date, 56 tornadoes touched down.
The National Weather Service in Little Rock issued 48 tornado warnings that day alone.
Most of the tornadoes that formed did so along the Interstate 30 and Highway 67 corridor between 4 p.m. and 8 p.m. Jan. 22, according to the National Weather Service.
The strongest tornado touched down in Clay County. It was rated an F4.
Several F3 tornadoes also touched down in Arkansas. One of those cut a path from Shannon Hills in Saline County through the middle of Little Rock.
"Several homes built at the turn of the 20th century were heavily damaged," the NWS said. "Even the governor's mansion was not spared, with a tree falling on a fence around the property."
A grocery store was also hit.
Three people were killed in Little Rock.
Further up Highway 67/167, an F-3 tornado made a direct hit on the towns of Beebe and McRae.
That tornado touched down one mile southwest of Beebe around 7:30 that night and finally lifted about a mile northeast of McRae. It was on the ground for 8 miles.
According to the NWS, the twister hit Beebe schools while basketball games were being played at the high school gym.
School officials were paying attention to the weather and called one of the basketball games at halftime and evacuated the 200 to 300 fans in attendance.
Thirty minutes later, the tornado destroyed the gym.
Two people died in the Beebe storm.
The National Weather Service said two tornadoes, one an F2 and the other an F3, paralleled each other just a couple of hours apart.
They moved across parts of northern White County and southern Independence County, affecting the communities of Holly Springs and Sunnydale in White County, and Pleasant Plains and Rosie in Independence County.
One person died near Pleasant Plains.
An F2 tornado damaged several homes and businesses in the town of Newark.
According to the NWS, 10 tornadoes struck White County, while another six touched down in Independence County.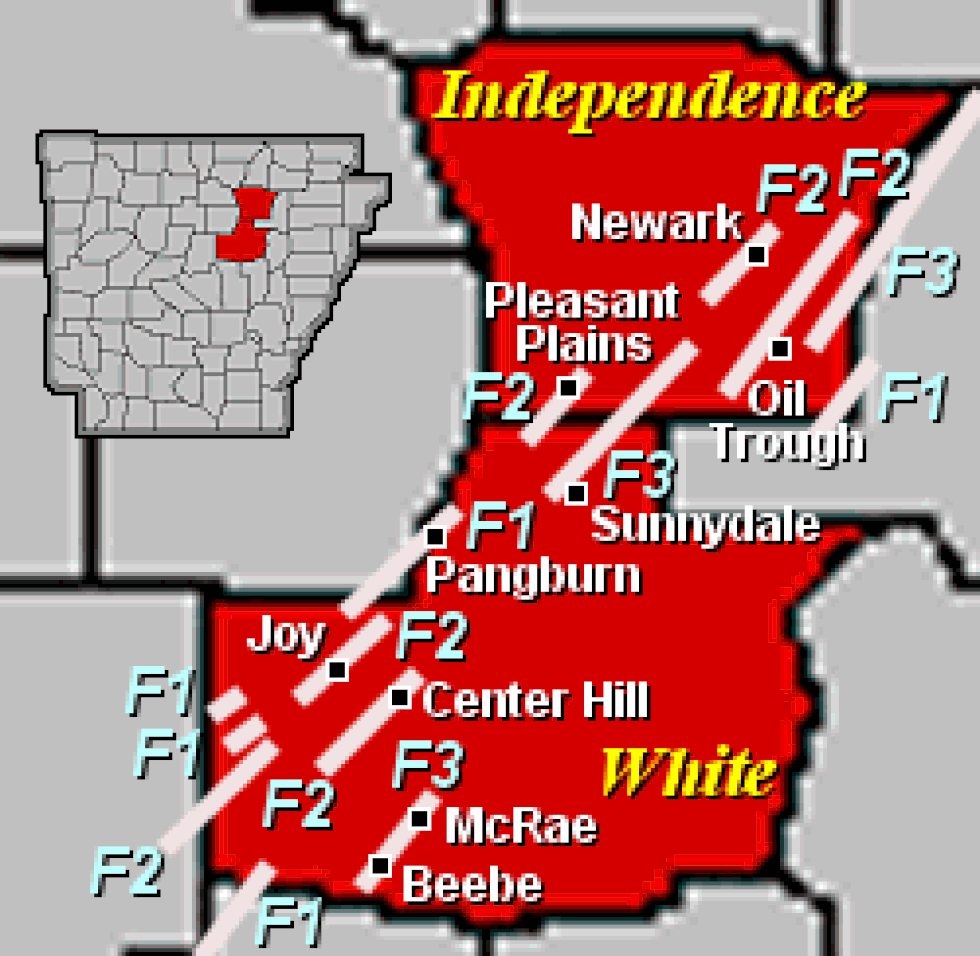 The year 1999 recorded the most tornados for a single year in Arkansas with 107 tornadoes. More than half occurred on January 21-22.
On that day, 8 people lost their lives to the tornadoes, and between 140 and 150 people were hurt.
Copyright 2021 KAIT. All rights reserved.