Five Red Wolves participate in 2021 Arkansas State Pro Day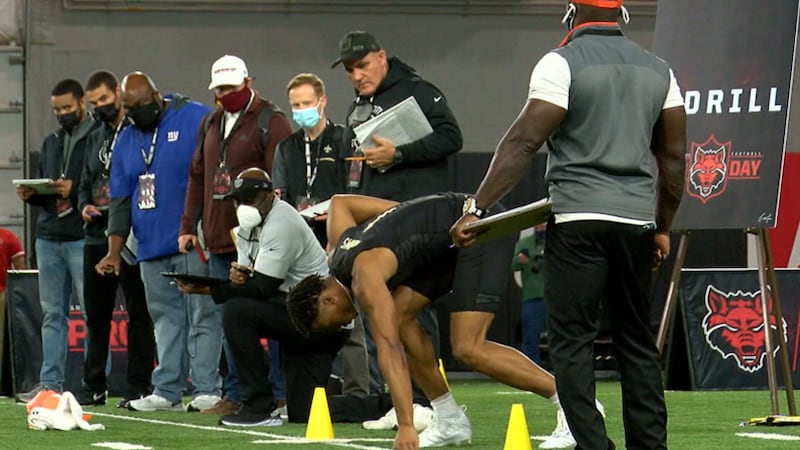 Updated: Mar. 12, 2021 at 10:56 PM CST
JONESBORO, Ark. (KAIT) - The National Football League was focused in Jonesboro today for Arkansas State Pro Day.
21 NFL teams were in attendance including the Titans, Saints, Bucs, Packers, and Steelers. Wide receiver Jonathan Adams Jr. ran in the 4.4 range in the 40 yard dash. Layne Hatcher was throwing to him during on-field drills along with new A-State assistant Logan Kilgore. Adams landed on 6 All-American teams and was the Sun Belt Offensive Player of the Year.
The JHS alum earned a invite to the NFL Combine along with defensive lineman Forrest Merrill. Merrill earned All-Sun Belt accolades in 2018, 2019, and 2020.
They weren't the only Red Wolves working out on Pro Day. Running back Jamal Jones and tight end Giles Amos looked to pad their resume. Both played in the Hula Bowl in January. Jones also competed in the College Gridiron Showcase.
Seth Cottengim is one of the top deep snappers in the country. He was nominated for the Patrick Mannelly Award.
The 2021 NFL Draft begins Thursday, April 29th.
Copyright 2021 KAIT. All rights reserved.