Accident leads Gr8 Acts of Kindness winner to promote car seat safety
Updated: Apr. 1, 2021 at 7:30 AM CDT
POCAHONTAS, Ark. (KAIT) - "He hung out with us a lot. He was Grandpa's shadow. That's what he called him," Teresa Junkersfeld said as she looked through pictures of her late grandson.
"Such a happy personality," Caitlin Adams said. "He made everyone happy." Adams nominated Junkersfeld for the Gr8 Acts of Kindness.
"He'd run through the door yelling, "Nana & Pop," Teresa said with tears in her eyes.
Luke Allen Junkersfeld will forever be frozen in time at 3-years-old.
That's because he died in a head-on car crash, early on the morning of October 8, 2018. Multiple drivers reported seeing a car driving erratically, with a driver slumped over the wheel experiencing a medical emergency.
"Less than 30 seconds later, our dispatch was sending crews to go help with that," Jonathan Adams, a Pocahontas Police Officer, said.
The vehicles collided. Luke was killed. His siblings and mother injured.
"He had a femur fracture," Teresa said. "The way I feel like it happened he slid under the seat belt and fractured and ruptured everything else."
And she should know. Not only was she Luke's grandmother; she's a traveling emergency room R.N. who works all over the country.
"I was in California," Teresa said.
That's when she got the call.
"They put a social service worker on the phone and that's when I knew he was dead was when they put the worker on the phone," Teresa said. "That's the only time they do that."
Shock set in...then.
"I was angry. I wanted to blame someone."
With no one to blame, Teresa shifted her focus to educating others about car seats and how to correctly install them.
"You never want the seat belt to be more than an inch above their shoulder right here," Teresa demonstrates as she shows us how to properly use a child's safety seat.
She still can't say for sure that Luke's car seat didn't work. It's just that the wreck was that horrific. But, she wants to leave no doubts in anyone else's mind.
"So I educated myself," Teresa said. "I was like, God. There's so many people out there that don't know this stuff. Like when I went to the first class."
That's when she discovered few people really know how to properly install a child safety seat.
"They took our keys to our vehicles and they went out and they turned over car seats upside down that was in our cars," Teresa said. "I'm like what's going on and they said none of us had it in right."
In fact, 59% of car seats or booster seats are not installed correctly...and some parents don't have car seats at all.
"It's kind of something that helped so many people," Caitlin Adams said. "People at my son's HeadStart... there were teachers that came up to me... there's so many kids that are coming through here either with the seats installed the wrong way."
So, Teresa started the LiveLikeLuke Foundation to conduct car seat safety drives. She created a Facebook page and PayPal account.
"I tried to do convertible car seats because parents cannot afford car seats when they switch over. So I try to get from newborn to 60 pounds and then after that 60 pounds, always 20 or 140. I want the children in car seats until they're at least six years old, but I would like it to be eight."
She fundraises to get money to buy car seats...
The LiveLike Luke Foundation in Randolph County has been awarded car seats from UAMS for several years in a row and the organization may become a child safety satellite site for Northeast Arkansas.
Teresa has worked directly with UAMS to help educate parents locally as well as help stock the local police and sheriff's department with car seats--just in case they find someone without one.
"We'll escort them to the police department, which will then give them a car seat and install the for them," Jonathan Adams said. "We explain how to use the car seat and all the instructions and they're good to go."
So it was only fitting that Adams, along with several family members went with us to surprise Teresa Junkersfeld.
"Surprise!"
"You are the next winner in the Gr8 Acts of Kindness!"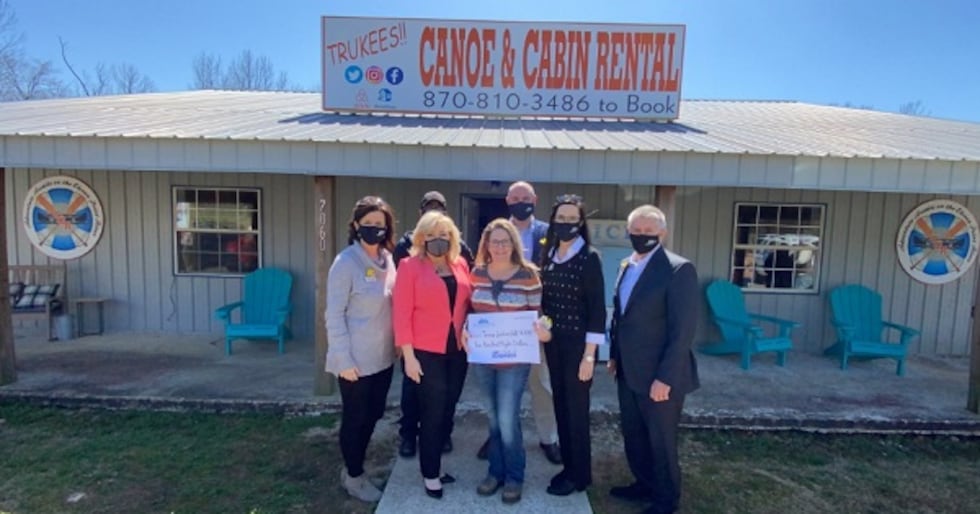 "Let's count this out for her! $300, $400. $405, $406, $407, $408."
"Thank you so much for everything you do," Kembralyn Redman, First Community Bank business development officer said. "You make this a better Region 8."
Teresa knows exactly what she plans on doing with her $408 dollar prize...buying more car seats so other children like her precious Luke may live.
"He was so good. He was always out to make someone else laugh," Teresa said.
Teresa wants every parent to know this:
Never buy a used car seat if you don't know its full history.

The car seat safety belt needs to touch all the major big bones.

Use a rear-facing car seat in the center of the back seat of your car until your baby is two years of age. Then, switch to a rear-facing convertible seat with higher weight and height limits.

Car seats have an expiration date. Please check your car seat's instruction booklet or the back of the car seat for an expiration date.

Throw away any car seat that has been in an accident. It is not safe to use again.
Copyright 2021 KAIT. All rights reserved.