New Missouri law banning homeless from camping on state-owned property causing confusion, questions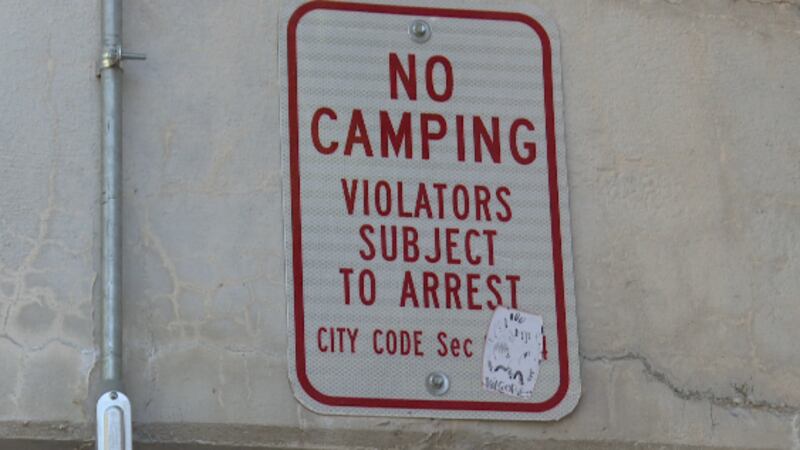 Published: Jan. 4, 2023 at 6:56 PM CST
|
Updated: Jan. 4, 2023 at 8:12 PM CST
SPRINGFIELD, Mo. (KY3) - The start of the new year also brought a new Missouri law that prevents the homeless from camping on state-owned property and several other homeless-related topics.
House Bill 1606 was passed last summer amidst many questions and concerns.
Springfield's City Council reviewed the bill's ramifications in October with a less enthusiastic reception.
"We don't believe the bill is written in a very high-quality way," said Springfield City Manager Jason Gage.
And now that the bill has become law, the concerns haven't gone away.
"On paper, there's one thing," pointed out Adam Bodendieck, the Director of Homeless Services for the Community Partnership of the Ozarks. "But as you talk to folks involved, each question leads to another question."
"Before the language was passed, before it was signed, and before it went into effect, we've been asking for clarification that has not really come," added Sarah Owsley, the Policy and Advocacy Director for Empower Missouri.
Both the Community Partnership of the Ozarks and Empower Missouri serve as advocates for the state's homeless, and Empower Missouri is the oldest and largest anti-poverty organization in the state, having been around for 120 years.
"I really believe most lawmakers want to improve their community's conditions," Owsley said. "But no non-profit homeless service providers offered support of this language, and there's really no one in the state who thought it was a great idea. So it was frustrating to see it move forward anyway despite the significant flaws that have been pointed out very early in the process."
The Community Partnership of the Ozarks has been working with other homeless service providers around the country who have dealt with similar laws and have had to answer inquiries from those out in the streets about what they should do now that it's against the law to camp on state-owned property.
"They're asking, 'What does that mean? What do I do? Where do I go?'" Bodendieck said. "But there are a lot of unknowns even though January 1st has come and gone, and this bill is now in effect. We're working with other agencies who have been through this to try and figure out what it means and what impacts the law might have. But nobody seems to have a comprehensive handle on it. There is no clear roadmap we've seen in any state. So we're in a holding pattern while we work through all those issues and questions."
"The first question we had was what really qualifies as state-owned land?" Owsley added. "One interpretation could be any land within the state, even if it's owned by a private company or by the city. I don't have clarification of that as I drive down the road, and I don't believe most of our law enforcement officers do either."
The law also says that the state Attorney General can sue cities that don't enforce the laws. New Attorney General Andrew Bailey was asked after his swearing-in ceremony this week if the new homeless law would be a priority for him.
"Yes. Absolutely," he replied. "I'm dedicated to the principal that I'm here to enforce the laws as written."
"Cities are unclear what that means," Owsley said. "And cities often don't want to spend the resources or time on this. Most law enforcement officers I've interacted with do not want to spend their time harassing people who are experiencing homelessness. That does not solve the problem or keep our community any safer, and it actually increases the risks. It forces the homeless to hide from view, which increases their risk of violence and harm. It will often push them onto private property, farmland or other areas where they're less likely to get their needs met."
Another part of the new law says state funding should be used only for short-term shelters, which puts homeless service providers in the middle because federal funding is awarded long-term housing as the priority.
"Essentially, you've got mom telling you one thing and dad telling you another thing, and you've got to figure out how to walk the line," Bodendieck said.
And whether it's a lawsuit filed by Eden Village or a legislative bill filed in the current session by Springfield State Representative Crystal Quade that would strike down the homeless law, Owsley believes something will happen to address the incongruencies in the new policy.
"It's unlikely that this law goes untouched in the next several months," she said. "We'd really like to see a resolution that preserves the dignity and worth of our neighbors who live outdoors and not make homelessness more difficult and less safe."
"We'd just like to get some direction on how to move forward," Bodendieck added."
To report a correction or typo, please email digitalnews@ky3.com
Copyright 2023 KY3. All rights reserved.