Dan Enos returns to Arkansas as offensive coordinator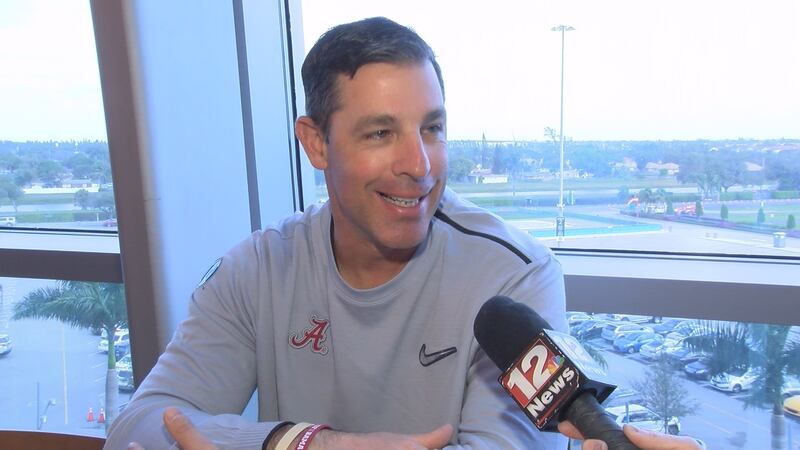 Published: Jan. 19, 2023 at 10:36 AM CST
Head Coach Sam Pittman has named Dan Enos as the Razorbacks offensive coordinator.
Enos returns to Arkansas with over 30 years of coaching experience, including three seasons as the Hogs' offensive coordinator and quarterbacks coach from 2015-17. During his three seasons in Fayetteville, he engineered some of the most productive offenses in school history with both the 2015 and 2016 Razorback offenses still ranking in the school's Top 10 for total yards and yards per game. Enos' first offense on The Hill in 2015 remains one of only three offenses in school history to surpass 6,000 yards. In his lone season under Enos, Razorback quarterback Brandon Allen set three school records, including the career mark for touchdown passes with 64 and the single-game record for touchdown passes in a game with seven against Mississippi State. That 2015 offense – with Pittman as the team's offensive line coach – set the school record for touchdowns with 62, averaging 35.9 points per game (6th all-time at Arkansas) while rushing for 2,565 yards and passing for 3,486 yards.
Arkansas was one of two FBS programs with a 3,000-yard passer and 1,300-yard rusher in both 2015 and 2016, featuring a different quarterback and different primary running back in each season.
Enos has spent the past two seasons at Maryland as the Terrapins' offensive coordinator and quarterbacks coach, helping the Terps to 15 total wins that includes bowl wins over Virginia Tech (2021 Pinstripe Bowl) and NC State (2022 Duke's Mayo Bowl).
In 2022, Enos' offense ranked fourth in the Big Ten in total offense and scoring, averaging 401.2 yards per game and scoring 28.2 points per game. For the second straight season, QB Taulia Tagovailoa eclipsed the 3,000-yard mark passing for 3,008 yards as one of just three Big Ten QBs to top 3,000 yards passing during the 2022 season. Tagovailoa added 18 touchdowns while completing 67% of his passes to earn second-team All-Big Ten honors from the league's coaches. He finished third in the league averaging 256.0 yards of total offense per game as one of just three players in the Big Ten to gain over 3,000 total yards.
Freshman running back Roman Hemby led the way for the Terps on the ground, rushing for 989 yards and 10 scores to go along with 33 receptions for 298 yards and another TD. Along with being named a Freshman All-American by College Football News, Hemby was named Honorable Mention All-Big Ten as one of six Terps from the offensive side of the ball to earn the honor along with OL Jaylyn Duncan, TE Corey Dyches, OL Delmar Glaze and WR Rakim Jarrett. The six total selections matched the school record for the most since joining the Big Ten and marked the second straight year that saw six selections from the Maryland offense.
Enos' first offense at Maryland produced numerous school records in 2021 as the Terps set single-season bests in total yards (5,740), passing yards (3,960), completions (339) and completion percentage (69.3%). Tagovailoa added seven single-season school records of his own in his first season in the Enos system, setting top marks in passing yards (3,860), completions (328), completion percentage (69.2%) and passing touchdowns (26).
Enos spent the 2020 season at Cincinnati as the Bearcats' associate head coach and running backs coach. The Bearcats went 9-1 during the pandemic-shortened season, winning the American Athletic Conference title and earning a spot in the Sugar Bowl before finishing the season ranked in the Top 10. The Cincinnati offense ranked in the Top 25 nationally in nearly every offensive category, including rushing offense (212.4 yards/game) and points per game (37.5).
He spent the 2019 season at Miami after coaching quarterbacks at Alabama in 2018 as the associate head coach. With the Crimson Tide, Enos molded Tua Tagovailoa into an All-American, Walter Camp Award and Maxwell Award winner to help the Tide reach the national championship game. During his one season with Enos, Tua Tagovailoa completed 69% of his passes while throwing for 3,966 yards and 43 TDs and just six interceptions to set an all-time FBS single-season passer rating (199.44). The Tide averaged 45.6 points and 522.0 yards per game and set single-season school records for points (684), total offense (7,830 yards) and passing yards (4,854).
Before his first tenure at Arkansas, Enos was the head coach at Central Michigan for five seasons. He led the Chippewas to two bowl games, earning bowl eligibility in three of his five years at the helm. During his time in Mount Pleasant, Mich., 23 Chips earned All-Mid-American Conference honors with four of his five offense passing for 3,000+ yards.
Copyright 2023 KAIT. All rights reserved.