Benton (LA) WR Pearce Russell commits to Arkansas State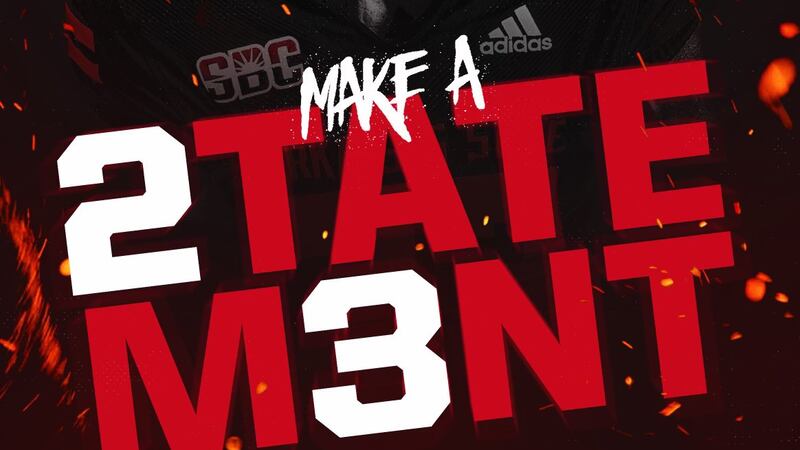 Published: Jan. 25, 2023 at 11:25 AM CST
JONESBORO, Ark. (KAIT) - We're exactly one week until National Signing Day part 2.
Another high school standout is thinking Red Wolves. Benton, Louisiana wide receiver Pearce Russell committed to Arkansas State on Wednesday morning. He had offers from ULM, UCA, Northwestern State, and Mississippi Valley State to name a few.
Russell earned 5A All-State honors in 2022 along with the Shreveport Times Offensive Player of the Year. He had 89 receptions for 1,566 yards and 19 touchdowns.
Arkansas State Football - 2023 Recruiting Class (Italics for signees)
- WR Pearce Russell (Benton - LA)
- DE/LB Antanius Tiggs (Marion)
- RB Zak Wallace (UT Martin)
- OL Jacob Bayer (Lamar)
- OL Jalen Cunningham (Ole Miss)
- OL Hamilton Hall (Ole Miss)
- OL Tobias Braun (Ole Miss)
- WR Courtney Jackson (Syracuse)
- DL Micah Bland (North Alabama)
- TE Kevin Diaz (Northwest Mississippi CC)
- CB DeAubry Hood (Harker Heights - TX)
- S Dontay Joyner (Lakeland - FL)
- WR Takare Lipscomb (Carrollton - GA)
- TE Tyler Little (Galena - KS)
- WR Clyde Curry (Gadsden City - AL)
- S Jordan Sample (Missouri City - TX)
- S Brandon Greil (Joe T. Robinson)
- WR Tennel Bryant (Archbishop Moeller - OH)
- WR Chauncy Cobb (Clewiston - FL)
- LB RJ Kelly (Lakeland - FL)
- DL Ian Jeffries (Southaven - MS)
- DE Brian Alston (Spain Park - AL)
- S Jamil Williams (Palmetto - FL)
- QB Jaylen Raynor (East Forsyth - NC)
- DE/OLB Terrell James (Lake Wales - FL)
- RB Cedric Hawkins (Stuttgart)
- WR DeAndra Burns (El Dorado)
- DE Timothy Gulley (Pensacola Christian - FL)
Copyright 2023 KAIT. All rights reserved.