MPD decides to permanently deactivate SCORPION Unit, protestors react to news
Published: Jan. 28, 2023 at 3:49 PM CST
|
Updated: Jan. 29, 2023 at 6:35 PM CST
MEMPHIS, Tenn. (WMC) - Memphis police officers assigned to the SCORPION Unit (Street Crimes Operations to Restore Peace in Our Neighborhoods) met with Chief C.J Davis on how to move forward for the department after the death of Tyre Nichols and it was decided that it was best to permanently deactivate the unit.
The SCORPION Unit was a 50-person unit operating seven days a week. Made up of three components: crime suppression, auto theft task force and gang prevention.
This decision was made in the process of listening intently to the family of Tyre Nichols, community leaders and the uninvolved officers.
The officers currently assigned to the unit agreed with this next step.
Nationally renowned civil rights and personal injury attorneys and attorneys to Tyre Nichols' family Ben Crump and Antonio Romanucci released a statement about the deactivation of the SCORPION UNIT.
Over the last several days, we have heard the demand from Memphis leaders and protestors who are advocating for justice in the case of Tyre Nichols, to disband MPD's SCORPION Unit.
"I am absolutely proud of the way that CJ Davis is handling this situation," said DeVante Hill.
Hill organized one of the several protests in Memphis on Saturday, at I AM A MAN PLAZA in Downtown Memphis.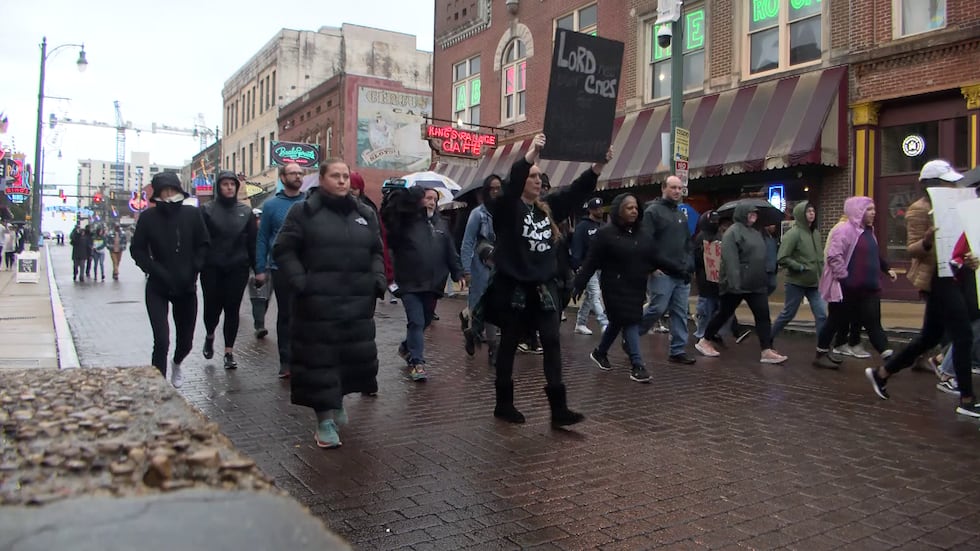 It was Action News 5 who informed Hill that the SCORPION Unit had been disbanded, just after he had been calling for the unit to be disbanded minutes before.
He said this is but another step to police reform that's been in the works for years now.
"I'm so thankful for the leaders of this city," said Cedric Johnson, a Memphian who joined Hill's protest. "They've set a precedent, hopefully for the whole country."
Councilman JB Smiley joined Decarcerate Memphis and dozens of others at a protest on Saturday afternoon. The same day that It was announced that Memphis Police will eliminate its SCORPION Squad unit.
"It was absolutely necessary but essential to give the family peace," Memphis City councilman JB Smiley said.
Although the SCORPIO Unit was less than two-years-old, Councilman Smiley said he hopes this is the end of units similar to SCORPION.
"My concern going forward is to make sure we don't create another unit and just call it something else," Smiley said. We have to be intentional about making sure we restructure everything as it relates to these types of units going into the communities and terrorizing people"
Click here to sign up for our newsletter!
Click here to report a spelling or grammar error. Please include the headline.
Copyright 2023 WMC. All rights reserved.