Snakes are popping back up across the Ozarks; how to stay safe if you encounter one
Prompting important reminders from the Missouri Department of Conservation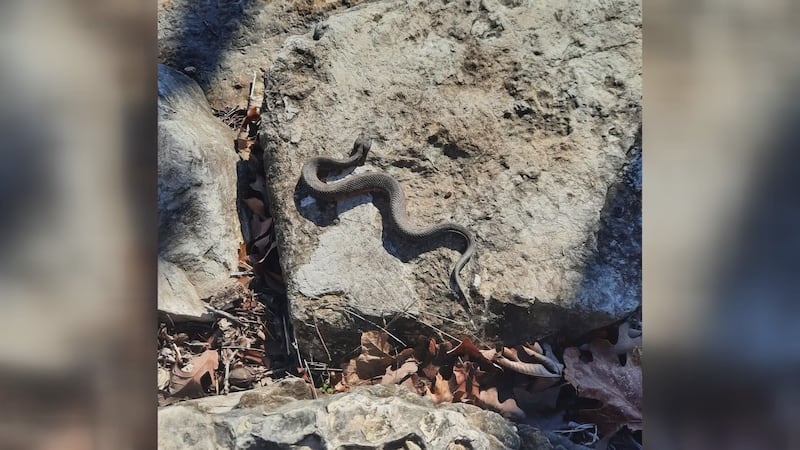 Published: Feb. 21, 2023 at 6:57 PM CST
SPRINGFIELD, Mo. (KY3) - Thanks to our stretch of above-normal temperatures recently and your submitted viewer photos, snakes are starting to pop up once again across the Ozarks.
This is nothing new to Francis Skalicky of the Missouri Department of Conservation, as this rise in number is not specific to any particular species.
"When you have these kinds of warm periods, even in the winter, you'll have snakes that become active," Skalicky says. "Snakes are not true hibernators and this is not a case of snakes being fooled by nature. Whenever we hook up some warm days together, they can get active again. If it gets cold again, they'll become dormant again."
While the snakes emerging once again may not be a big surprise to many, it may surprise some to learn that killing snakes native to the state of Missouri is illegal. Skalicky does point out a few exceptions.
"There is a provision in our wildlife code that you can protect your property or your personal safety," Skalicky states. "If you have a snake that's getting into your chicken eggs or if you have a copperhead near your house posing an immediate threat to your family, yes. You can kill them."
As for why snakes are illegal to kill or hunt, Skailcky says that the Department of Conservation sees no good reason to have a season for them.
"Our hunting seasons are set up on animals that you can utilize for meat or sporting purposes," Skalicky stated. "Since snakes can't provide table fare and other than the provision stating any possible threat to life or property, that would be classified as a random killing. Nothing in our wildlife code promotes random killing of wildlife."
In addition, Skalicky is quick to point out a big positive to protecting the snake population.
"Snakes do valuable pest control in nature," Skalicky says. "They kill mice and they can kill rats for us. Plus, just because you see a snake doesn't mean that snake's going to crawl over and bite you."
By nature, snakes don't actively look for humans. Most of the time, they're out looking for food. Skalicky says that as long as you don't bother them, they won't bother you. However, snake bites can sometimes occur. In case that happens, Skalicky says that whether the snake is venomous or not, take a picture of the snake if you can and get medical attention immediately.
"If you're not sure if a snake is venomous or not, showing that picture to the doctor will let the doctor identify the snake and determine if the snake is venomous," Skalicky says. "That will make a big difference in how the bite is treated. Even if it turns out to be nontoxic, the wound can still hurt and become infected. Proper treatment can avoid that."
The Missouri Department of Conservation has a guide on snakes in Missouri and how you can stay safe with snake encounters right here. Information on snakes, prevention, and treatment of bites is also available from the University of Missouri Extension and from John Hopkins Medicine.
To report a correction or typo, please email digitalnews@ky3.com
Copyright 2023 KY3. All rights reserved.