Tick season is knocking on the door
Helpful reminders from the Missouri Department of Conservation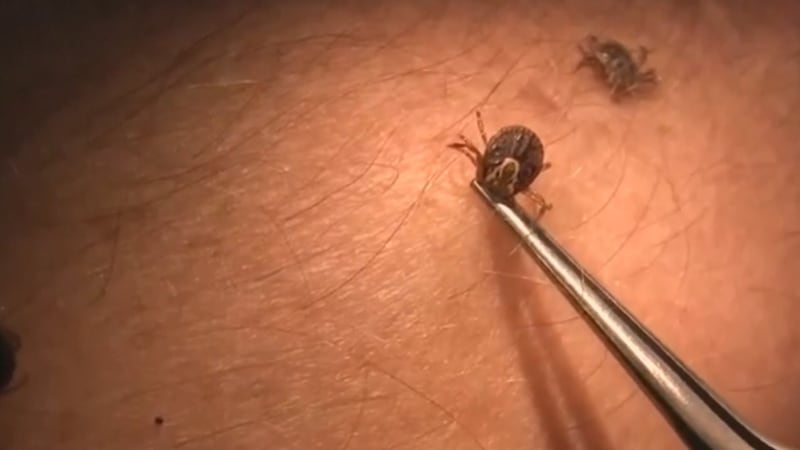 Published: Feb. 24, 2023 at 6:55 PM CST
SPRINGFIELD, Mo. (KY3) - Colder weather has returned to the Ozarks after a recent string of above-average temperatures through the middle of the week.
With more of those mild days lining up for March and the upcoming spring, Francis Skalicky, media specialist with the Missouri Department of Conservation says that the warmer temperatures won't just bring people back outside.
"Vegetation is starting to green up, and things are starting to come out," Skalicky says. "When you start to string those warm days together with highs up in the 60s and temperatures not much lower than the 40s at night, one of the things that will come out are ticks."
While April through July is considered the most active months of the upcoming tick season, a recent University of Missouri study actually shows that ticks can come up as early as May and last as late as November in the state of Missouri.
While the lone star, American dog, and deer ticks may be the most common species of ticks in the state, other species have been found in prior tick seasons. No matter the species, ticks can potentially carry diseases like Rocky Mountain spotted fever, and Lyme disease. However, Skalicky points to a recent study to put it all in perspective.
"The Missouri Department of Conservation has partnered with A.T. Still University in northeast Missouri for the past couple of years on a tick study," Skalicky said. "Of the 2,400 ticks that have been tested for disease, only 5% so far have been to found to carry disease. While some ticks may carry disease, that shouldn't scare people to the point of not going outside and enjoying the outdoors."
This all means that people should enjoy the great outdoors while taking simple precautions before and after time spent outside. Prevention starts with insect repellent with 20% to 30% deet on your skin and on your clothes.
If applicable, wearing long pants will limit what ticks can grab onto and bite. Plus, insect repellent can be sprayed on your clothes for added protection. Pets that love outside time should be on proper medication or have a collar on that can repel ticks and other pests. As for after time spent outside, Skalicky says it all starts with checking yourself.
"Always check yourself when you come in from the outdoors and when you've been out in vegetation," Skalicky says. "Take a good shower and give yourself a good scrubbing.
That will keep ticks off and anything else that's attached to you. If there's a tick on you, the best way to remove it is with tweezers and put it in alcohol to kill the tick. Don't squeeze as you pull the tick because you don't want that bacteria going back into your body."
Monitor yourself for any symptoms after removing a tick from your body. Any flu-like symptoms or rashes at the site of the bite should be treated by a doctor right away.
Checking your pets is also important for them and to make sure any ticks or pests don't get into your home. We have more information from the Missouri Department of Conservation about ticks and from the University of Missouri Extension about how to manage your home to make it less appealing to ticks.
To report a correction or typo, please email digitalnews@ky3.com
Copyright 2023 KY3. All rights reserved.