New treatment helps Mid-South veterans breathe easier
Published: Mar. 22, 2023 at 10:47 PM CDT
MEMPHIS, Tenn. (WMC) - Helping America's heroes breathe easier.
Action News 5 got an exclusive look at a new treatment now offered to patients at the Lt. Col. Luke Weathers, Jr. VA Medical Center in Memphis.
For veterans who suffer from hyperinflation and emphysema, a form of COPD, this option is a non-invasive alternative to lung surgery or transplant.
Patients with COPD—chronic obstructive pulmonary disease—really struggle to breathe. It can be debilitating, life-altering and even fatal.
But this new procedure at the Memphis VA provides relief without surgery.
For the last decade, Michael Gafford has struggled to breathe. The 75-year-old U.S. Army veteran and lifelong smoker suffers from emphysema.
"It's the most horrible thing I've experienced in my life," Gafford told Action News 5, "It really scares you. I got to where I couldn't walk around the block. I could barely get to the mailbox and back."
Dr. Arjan Flora at the Memphis VA Medical Center performed a procedure called bronchoscopic lung volume reduction on Gafford. It's an FDA-approved, non-invasive treatment that places one-way valves in the lung using a fiberoptic camera.
"These one-way valves were developed to essentially deflate the most diseased portions of the lungs," said Dr. Flora, "in order to relieve pressure on the breathing muscle to allow people to breathe better when they're exerting themselves."
Just 36 days ago, on February 14, Gafford became the first veteran at the Memphis VA to undergo the procedure.
"I won't say I'm out of the woods yet, but I'm a lot better than I was," he said.
Gafford wanted this done a while ago, but the treatment wasn't offered at the Memphis VA. The military vet, who served in the Vietnam War, was ready to sell his house to raise the $75,000 needed to get the procedure at another hospital because insurance wouldn't pay for it.
Dr. Flora joined the VA's pulmonology team last year and immediately saw the need.
"What really did speak to me," said Dr. Flora, "was the fact that he had been waiting up to five years for somebody to show up at our VA in order to do it. And I wanted to give him the opportunity."
The tiny valve devices are now making a big difference in Gafford's quality and quantity of life.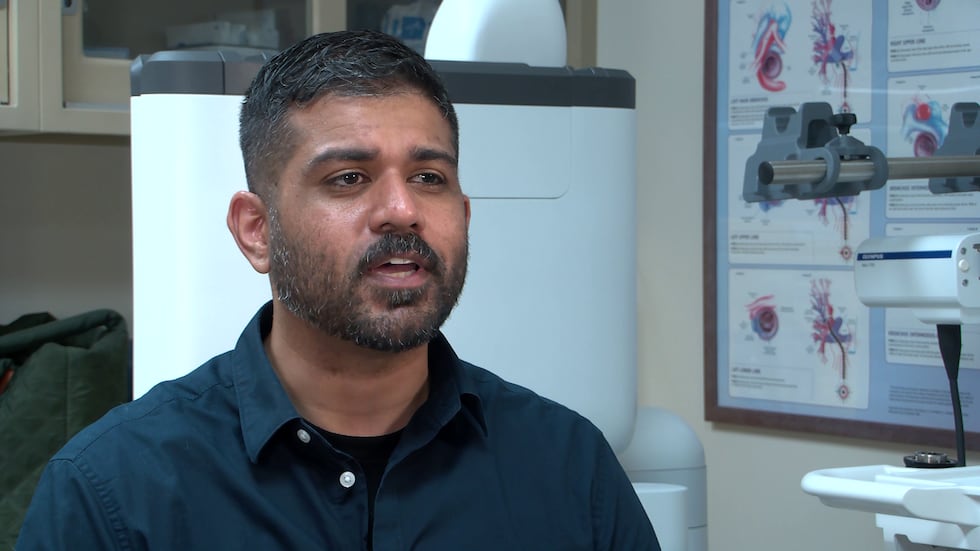 "You know, I've got two daughters and four grandkids," he said, "and I'd like to see them all with families before I Ieave this world. You've got to do something. You've got to try something. You can't just give up."
The Memphis VA is one of just a handful of VA's in the country offering bronchoscopic lung volume reduction.
A good candidate for the procedure is someone who meets pulmonary function test criteria for hyperinflation, can pass a six-minute walk test, and has quit smoking.
Dr. Flora said he took the job in Memphis to bring advanced diagnostics and therapeutics to veterans in the Mid-South.
His goal is to provide quality care that he says will rival elite hospitals like Vanderbilt University Medical Center and Johns Hopkins.
Click here to sign up for our newsletter!
Click here to report a spelling or grammar error. Please include the headline.
Copyright 2023 WMC. All rights reserved.