Humane Society investigates dumped puppies amid shelter overcrowding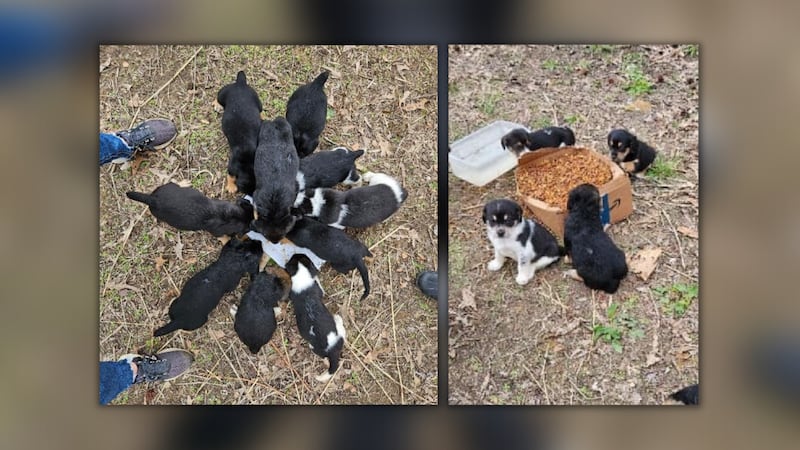 Published: Mar. 23, 2023 at 8:14 PM CDT
INDEPENDENCE Co., Ark. (KAIT) – The Humane Society of Independence County is hoping a community-funded reward will lead to the arrest of whoever dumped multiple puppies.
According to a Facebook post by board member Alisa Lancaster, ten puppies were found dumped at Lock 2 around 12:30 p.m. on Wednesday, March 23. Lancaster's husband, Scott, is the board chairman.
"We're going to find out who done this and we're going to prosecute them," he said.
According to Scott, the shelter is overcrowded and has been for several months, but the members made room for the puppies.
"We're never going to leave abandoned puppies out, no matter what we have to do," he said.
Alisa said some dogs that get along have been doubled up to provide the puppies a space to stay while they undergo medical evaluations before being put up for adoption in the next couple of weeks.
Independence County is not the only county dealing with overcrowding issues at the shelters.
The Jackson County Humane Society is also trying to keep 16 dogs that were found dumped from being euthanized.
"We have been full for over a year," Jackson County Humane Society President Ann Hout told KAIT over a week ago. "We have 70 dogs in a 50-dog kennel, we are not able to take these dogs in from the city pound."
Four of those dogs have been adopted, but Hout said if the remaining dogs are not adopted by Monday, March 27, they will be euthanized.
The Humane Society of Jackson County said it is a no-kill shelter and the puppies will not be put down.
Between Lancaster, his wife, and other community members, a privately-funded reward of $1,250 is being offered to whoever provided information that leads to the successful prosecution of whoever dumped the puppies.
Anyone who wishes to donate to the reward fund can do so through the Humane Society's CashApp, Paypal, and Venmo under the username HSCI72501.
Anyone with information about the dumped puppies can contact the Humane Society at 870-793-0090 or the sheriff's office at 870-793-8838.
Copyright 2023 KAIT. All rights reserved.