Several NFL teams attend Arkansas State football's Pro Day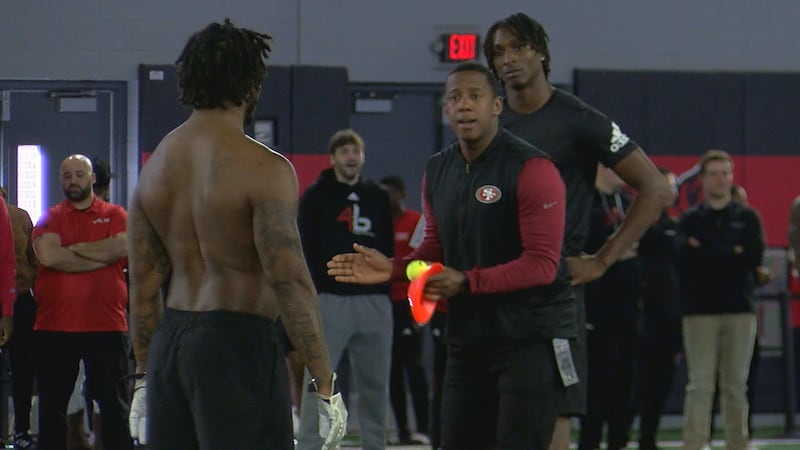 Published: Mar. 28, 2023 at 6:17 PM CDT
JONESBORO, Ark. (KAIT) - The NFL Draft inches closer and closer. Several Arkansas State football standouts from last year's squad worked out in front of 12 NFL teams at the A-State indoor facility Tuesday morning.
Seven Red Wolves worked out, five offensive players, and two on defense.
QB James Blackman

RB Johnnie Lang

WR Champ Flemings

WR Te'Vailance Hunt

OL Jordan Rhodes

DE/LB Kivon Bennett

LB Jordan Carmouche
Kivon Bennett has one of the more unique stories heading into the draft. The defensive end and linebacker started his career at Tennessee. After getting dismissed from the program, he found a new home in Jonesboro.
Kivon did it all in his two years at A-State, getting named All-Sun Belt in both seasons, but he played most of last season on a torn meniscus.
"Basically my whole offseason I've just been rehabbing," Bennett said. "I just got fully cleared for full activities on March 1."
Kivon didn't work out Monday as a precaution but he was there cheering on his teammates and talking with scouts. He'll have another opportunity to show out in front of scouts next month.
"On April 14, I have the Miami Dolphins local pro day which I got invited to, blessed to be invited to that," Bennett said. "They take a lot of the top prospects for my area in South Florida."
Fellow linebacker Jordan Carmouche was the other defender working out today for A-State.
On offense, lineman and Ole Miss transfer Jordan Rhodes looked agile for a big man.
Quarterback James Blackman dazzled in individual drills. The 6-5 Florida native has accounted for 65 touchdowns over his college career.
"I had a pretty good day, that's what everybody's saying," Blackman said. "I was harping on the times a little bit and they're telling me that's good, and the upper echelons of the quarterbacks that are in the draft. I did good, tested well today and had a good day."
He had several deep ball completions to some of his best weapons: Wide receivers Te'Vailance Hunt and Champ Flemings, and running back Johnnie Lang.
"It's just another workout," Lang said. "You know, come out here and show what you're capable of. Don't be so tight, you know and just be loose and enjoy it. This is the moment I've been looking for all my life. I just came out here relied on my training, and I feel good walking off the field."
Representatives from the reigning Super Bowl Champions Kansas City Chiefs, San Francisco 49ers, Seattle Seahawks, Dallas Cowboys, Green Bay Packers, Detroit Lions, New Orleans Saints, Las Vegas Raiders, Los Angeles Chargers, New England Patriots, New York Jets and the Miami Dolphins were in Jonesboro scouting the seven athletes.
The NFL Draft is in Kansas City from April 27th through the 29th.
Copyright 2023 KAIT. All rights reserved.