Antwon Jackson transfers to Arkansas-Fort Smith: A-State transfer portal updates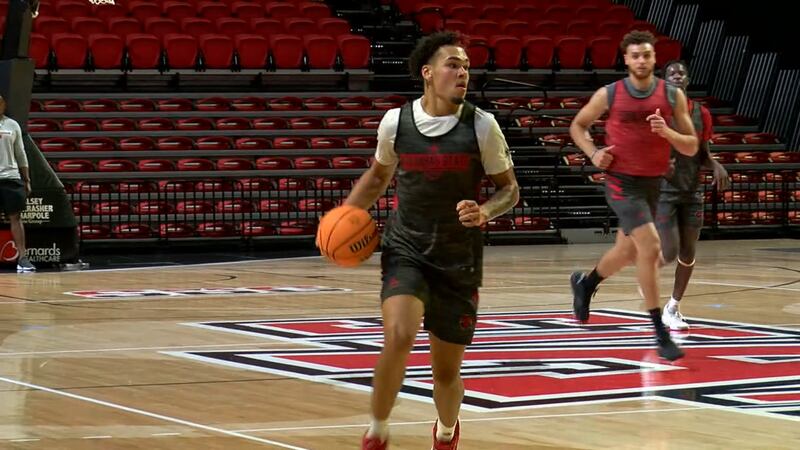 Published: Mar. 16, 2023 at 11:18 AM CDT
|
Updated: Apr. 23, 2023 at 11:30 PM CDT
JONESBORO, Ark. (KAIT) - Red Wolves were exploring their options after Mike Balado was fired and Bryan Hodgson was hired as the new Arkansas State head men's basketball coach.
Sophomore forward Julian Lual returned to the Red Wolves. After A-State got a commit from Tarleton State transfer Freddy Hicks, guard Terrance Ford Tweeted that Lual is coming back.
Julian had Tweeted in March he was entering the portal, a Tweet that has since been deleted. Lual played in 32 games, starting 10 for the Red Wolves. He averaged 5 points per game but added value on the defensive end.
Mak Manciel, a Detroit native, announced he would be transferring to Detroit Mercy on April 21.
Manciel missed the 2022-23 season due to a torn ACL and meniscus. He was a JUCO All-American at Henry Ford College before arriving in Jonesboro, averaging 15 points, 4 rebounds, and 3 assists per game in 2021-2022. He was named Player of the Year and the Freshman of the Year in the Michigan Community College Athletic Association.
Antwon Jackson became the seventh Red Wolf from last year's team to be in the transfer portal, according to Verbal Commits. Jackson played one game in the 2022-23 season, recording a rebound in two minutes in November against LSU. He missed the rest of the season with an injury. The Las Vegas native averaged 3 points and 3 rebounds per game over 81 games played in his A-State career. He announced on Instagram on May 29 he'll be transferring to Arkansas-Fort Smith
Detrick Reeves announced on March 30th that he's entering the transfer portal. The Marion native had an injury-plagued 2022-23 season, appearing in just 6 games. He had 2 points, 2 assists, and 1 steal in the season opener vs. Harding. Reaves also had 5 points, 1 rebound, and 1 steal in an exhibition matchup vs. Voorhees (SC).
Caleb Fields took his name out of the transfer portal, he'll return to Arkansas State for his senior season. Fields has anchored the Red Wolves' backcourt for each of the past four seasons, logging 107 starts and scoring 1,194 points in his A-State career (16th-best in program history). The Tennessee native also dished out 476 assists, tied with Marquis Eaton for third-most in program history.
Freshman guard Terrance Ford also announced that he will return to the Red Wolves. He electrified in his debut season for the Red Wolves, leading all Sun Belt freshmen by averaging 10.8 points per game. Terrance played in 32 games this season, logging 15 starts. As the season progressed, so did the Chicago native, leading the Sun Belt in three-point percentage in conference play (48.4 percent).
Izaiyah Nelson is also returning to Arkansas State. He entered the transfer portal earlier this month. The freshman led A-State with 44 blocks and was 2nd with 164 rebounds. Nelson scored in double figures in 5 games, including an 11-point, 11-board performance in February against South Alabama. The Georgia native played in 33 games, recording 18 starts.
Caleb London entered the transfer portal on March 21st. The Conway native played in 23 games in 2020-21 but struggled with injury and played just 7 combined games over the past two seasons.
Alaaeddine Boutayeb is also entering the transfer portal. The 7′2″ forward battled injuries, appearing in 15 games this season. Boutayeb's best performance was a 10-point, 3-rebound outing in November against Lyon.
Caleb Byrd entered the transfer portal on March 16th. The JUCO guard signed with Arkansas State last November. Byrd played for Eastern Florida State College this season, he started his career in D1 at Jacksonville State.
A-State Men's Basketball Offseason:
TRANSFER PORTAL
PORTAL ADDITIONS
IN PORTAL
Detrick Reeves (Soph.)

Caleb London (Fr.)

Alaaeddine Boutayeb (Fr.)

Nicolas Tingling (Soph.)
RETURNERS
Caleb Fields (Sr.)

Terrance Ford (Fr.)

Izaiyah Nelson (Fr.)

Avery Felts (Soph.)

Julian Lual (Soph.)

Malcolm Farrington (Soph.)
DEPARTURES
Mak Manciel (Soph.) - Detroit Mercy

Antwon Jackson (Soph.) - Arkansas-Fort Smith

Nicolas Tingling (Soph.) - Faulkner
GRADUATED
Markise Davis

Omar El-Sheikh

Dylan Arnette
Copyright 2023 KAIT. All rights reserved.