Austin Reaves scores 13 points, Lakers beat Grizzlies 111-101 to take 2-1 series lead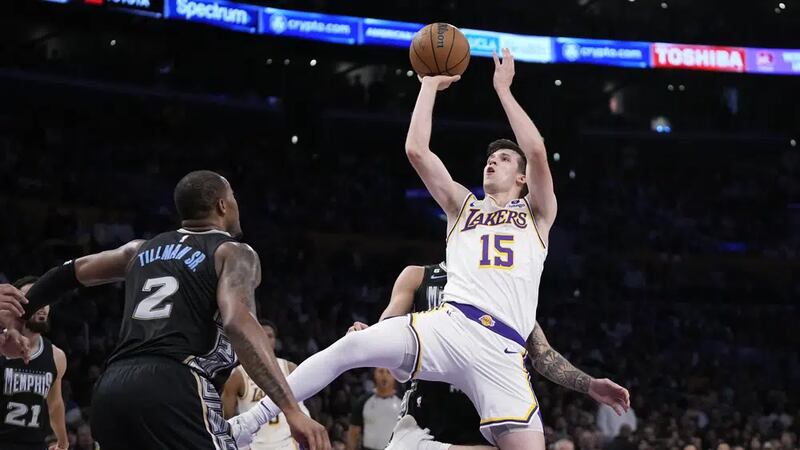 Published: Apr. 23, 2023 at 1:02 AM CDT
LOS ANGELES (AP) — LeBron James and the Lakers came out in front of this franchise's first sellout playoff crowd in a decade and immediately produced one of the greatest first quarters in team history. Los Angeles leaped to a 35-9 lead amidst one raucous ovation after another from fans eager for a return to playoff success.
Not even Ja Morant could carry the Memphis Grizzlies all the way back to prevent the Lakers from seizing Game 3.
Anthony Davis had 31 points and 17 rebounds, James finished with 25 points after Dillon Brooks was ejected for striking him in the groin, and Los Angeles survived Morant's 24-point fourth quarter to beat the Grizzlies 111-101 Saturday night for a 2-1 lead in their first-round playoff series.
Rui Hachimura scored 16 points in another strong effort off the bench for the seventh-seeded Lakers, who came out impressively in this long-awaited return to a true playoff atmosphere for a franchise with 17 titles. Los Angeles tied an NBA record by taking a 26-point lead into the second quarter, and Memphis couldn't get closer than 13 points until the final two minutes.
"We had a game plan, and we executed it through those first 12 minutes," James said.
Morant scored 45 points in his return from a one-game absence with a sore right hand, even scoring 22 consecutive points during his stunning fourth quarter while Memphis attempted to rally from an early 29-point deficit. Morant also had 13 assists and nine rebounds, but the second-seeded Grizzlies couldn't fully recover after scoring a franchise-low nine points in the first quarter.
"I thought our crowd was phenomenal," Lakers coach Darvin Ham said. "Really felt them in the building. Thank God we gave them something to cheer about, the way we came out."
Game 4 is Monday night in Los Angeles.
Brooks was ejected 17 seconds into the second half after the Memphis agitator struck James in the groin while guarding him near midcourt. While the top scorer in NBA history rolled on the court in pain, officials tossed Brooks after a brief video review.
With the Lakers' sellout crowd booing his every move, Brooks had just seven points on 3-for-13 shooting before his ejection. He drew the Lakers fans' ire for his behavior during and after Game 2, when the 27-year-old Brooks called the 38-year-old James "old" and belittled James' abilities.
Brooks declined to speak to reporters after the game. Memphis coach Taylor Jenkins only commented tersely on Brooks' ejection: "Officials made a call."
This rivalry stayed chippy in the third quarter, with Lakers forward Hachimura getting a technical foul for a furious reaction to a foul.
Aside from the physical play, the Lakers were in control of Game 3 until the Grizzlies made it mildly interesting late, never getting closer than nine points.
"First quarter, I thought we were playing hard, (but) our offense significantly impacted our defensive ability," Jenkins said. "The way our guys fought for quarters 2, 3 and 4 showed a lot of great resiliency. We've got to learn to get better from this. Adversity is going to bring out the best in us."
Morant wore a black brace and padding on his hand and appeared tentative with it at times, but Memphis' leading scorer started slowly before rounding into his usual unguardable form in the fourth quarter.
Desmond Bane scored 18 points for the Grizzlies.
The frenetic crowd was eager to cheer or to boo, and Brooks' provocative behavior provided a perfect outlet for the fans' energy. The fans ripped into Brooks in pregame warmups and each time he touched the ball before his ejection — but more importantly, the Lakers played with a similar edge from the opening tip.
Los Angeles rushed away to a double-digit lead and went up 35-9 after one quarter while the Grizzlies flailed offensively, going 3 for 25 with six turnovers. Brooks was particularly bad, missing 10 of his first 12 shots and making little impact on defense.
The Lakers led by 29 in the second quarter before Memphis finally shook off its road jitters and made a 10-0 run to close the first half, trimming its deficit to 16.
TIP-INS
Grizzlies: Brooks is the only player in franchise history to be ejected from multiple playoff games. He has been ejected six times in his six-year career, and he served two suspensions this season for an accumulation of technical fouls. ... Memphis hadn't played a postseason game in Los Angeles since 2013, facing the Clippers.
Lakers: D'Angelo Russell scored 17 points. He had a four-point play in the first quarter, the Lakers' first such play in a postseason game since Kobe Bryant did it in 2009. ... The 17-time NBA champions' last playoff game with a full crowd was in 2013. The Lakers missed the next six ensuing postseasons, and their 2020 championship run occurred in the Florida bubble. They hosted three first-round games in 2021 with a half-full arena due to COVID-19 restrictions.
___
AP NBA: https://apnews.com/hub/NBA and https://twitter.com/AP_Sports
Copyright 2023 KAIT. All rights reserved.