Austin Reaves leads Lakers in scoring, LeBron takes over late to give Los Angeles 3-1 lead over Memphis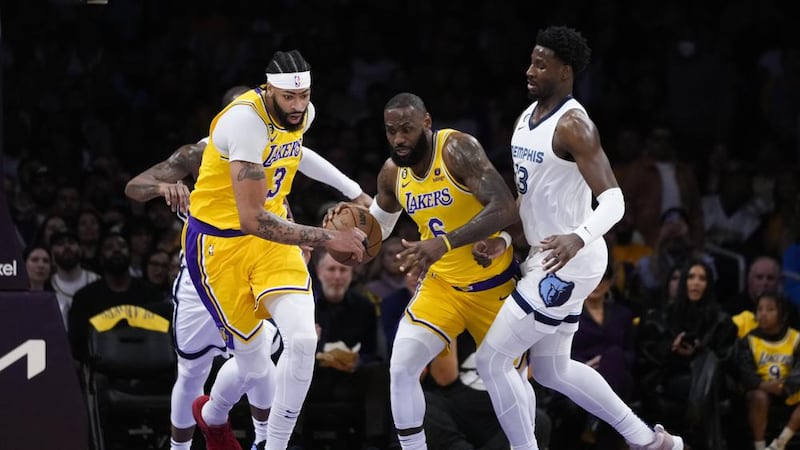 Published: Apr. 25, 2023 at 12:19 AM CDT
LOS ANGELES (AP) — LeBron James made the tying layup with 0.8 seconds left in regulation before scoring four of his 22 points in overtime, and the Los Angeles Lakers surged to a 3-1 lead in their first-round playoff series with a 117-111 victory over the Memphis Grizzlies on Monday night.
The 38-year-old James also grabbed a career playoff-high 20 rebounds and added seven assists and two blocked shots while committing just one turnover in his 270th playoff game, extending his own NBA record. He became the first Lakers player to put up 20 points and 20 rebounds in a playoff game since Shaquille O'Neal in 2004.
"He just took over down the stretch," Anthony Davis said of James. "Got us a bucket to get to overtime. ... All our guys, it was a good team effort. This team is not going to go away."
Austin Reaves scored 23 points and Anthony Davis had five of his 17 in overtime for the seventh-seeded Lakers, who are on the brink of their first playoff series victory outside the Florida bubble since 2012.
Los Angeles surged back from a seven-point deficit with five minutes left in regulation with a rally that abruptly began when D'Angelo Russell hit three consecutive 3-pointers, and the Lakers never trailed in OT.
"I'm so proud of our guys, the way we fought," Lakers coach Darvin Ham said. "We found a way."
Desmond Bane scored 36 points and hit a tiebreaking layup with 6.7 seconds left in regulation for the second-seeded Grizzlies, who will have to rally from a 3-1 series deficit and win a Game 7 for the first time in franchise history to advance.
Ja Morant scored 19 points with his injured right hand, but Davis blocked his jumper at the regulation buzzer.
James coolly scored the basket that forced overtime over heavy defensive pressure, and he hit a huge layup while getting fouled to put the Lakers up by five with 29.1 seconds to play. Dennis Schröder and Austin Reaves buried two free throws apiece to seal the Lakers' 12th win in 15 games dating to the regular season.
Game 5 is Wednesday night in Memphis, with Game 6 back in Los Angeles on Friday.
Davis didn't look sharp for much of Game 4 while struggling with an apparent hip injury that required a heating pad on the bench, but he blocked four shots, and the Lakers excelled whenever the big man was protecting the rim.
Dillon Brooks, who dismissed James as "old" after Game 2, had 11 points for Memphis after getting ejected from Game 3 for striking James in the groin.
Morant's 45-point performance in Game 3 wasn't enough to dig the Grizzlies out of an early 29-point hole in his first game back from an injury absence with a sore right hand. He reacted with obvious pain after he jammed the hand into the ground again during the second half of Game 4, but kept playing and even dunked on Rui Hachimura an instant before the third-quarter buzzer.
The Grizzlies fell behind by an NBA record-tying 26 points after a historically bad first quarter in Game 3, but they dramatically improved their start in Game 4. The Lakers still jumped out to a 15-point lead in the first half before Memphis got back in it with a big surge to close the first half.
TIP-INS
Grizzlies: Pro Football Hall of Famer Shannon Sharpe watched the game from courtside. Sharpe, a Fox Sports commentator and a huge LeBron fan, got into a shouting match with several Grizzlies and Morant's father during their visit to face the Lakers in January, requiring security to intervene. There was no apparent drama this time out. ... Jaren Jackson Jr. kneed Schröder very near the groin while setting a screen in the fourth quarter, but assessed only a common foul after video review.
Lakers: The celebrity-studded sellout crowd included Prince Harry and Meghan Markle, who watched from a luxury box. Edward Norton, Adam Sandler, USC coach Lincoln Riley and Diddy also attended. ... Jarred Vanderbilt scored 15 points and even hit his first 3-pointer in 20 days during the first quarter. His impressive defense has been more valuable than his balky offensive game for the Lakers, who quickly put him in the starting lineup after his arrival at the trade deadline.
___
AP NBA: https://apnews.com/hub/NBA and https://twitter.com/AP_Sports
Copyright 2023 KAIT. All rights reserved.