Sikeston's new arson detection dog introduced during city council meeting
Published: Apr. 27, 2023 at 11:19 AM CDT
|
Updated: May. 2, 2023 at 6:36 AM CDT
SIKESTON, Mo. (KFVS) - The new four-legged member of the Sikeston Department of Public Safety was introduced at the city council meeting on Monday, May 1.
According to a release from the city, Sammy is an accelerant detection K-9 who partnered with Sikeston DPS Sgt. James Whitley during a four-week canine training school. The two graduated from Class No. 55 of the program.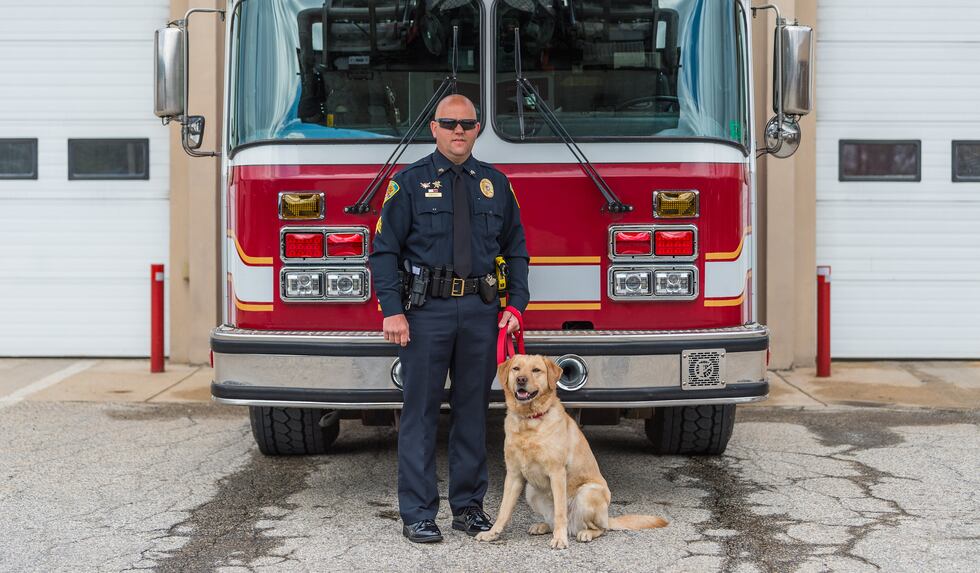 During the city council meeting, Sgt. Whitley and K-9 Sammy demonstrated their skills.
The duo will investigate fires throughout the Sikeston region.
K-9 Sammy is a 2.5-year-old yellow Labrador retriever. She was raised by Southeastern Guide Dogs in Palmetto, Florida, to be a guide dog for the blind but her strong work drive did not make her a good guide dog.
"We feel law enforcement officials should have every tool possible to combat this costly -- and sometimes deadly -- crime," said Heather Paul, National Arson Dog Program coordinator for State Farm. "These K-9s enable investigators to do their job more efficiently and effectively. The scope of arson goes beyond impacting insurance companies – it affects the personal and financial well-being of us all. Training dogs to detect accelerants at fire scenes saves time and money in arson investigations."
There are currently 95 active and certified teams in North America trained through the State Farm Arson Dog Program, including Sgt. Whitley and K-9 Sammy.
The program is funded by State Farm and is available to fire departments and law enforcement agencies across the United States.
For 30 years, the program has placed more than 450 dogs in 46 states, three Canadian provinces and the District of Columbia.
All arson dog teams are trained by Maine Specialty Dogs and certified by the Maine State Police.
The estimated value of the canine and training made by State Farm is $25,000 per team. The grant from State Farm paid for training for both handler and canine, travel expenses there and back along with food and lodging.
Accelerant detection canines, commonly called arson dogs, are trained law enforcement dogs that are used to sniff out evidence at fires. They work alongside their human handler, identifying the cause of home or business fires, assisting in cold crime cases and uncovering potential evidence in homicides.
According to the city, Sikeston had 55 structure fires in 2021 and more than 70 structure fires in 2022. There are roughly 15-20 arsons a year for structures and several arsons involving vehicles.
Copyright 2023 KFVS. All rights reserved.