'She's dancing now': School remembers #1 fan
Published: May. 2, 2023 at 12:37 PM CDT
|
Updated: May. 2, 2023 at 6:17 PM CDT
WALNUT RIDGE, Ark. (KAIT) - An 11-year-old girl in Lawrence County may be gone, but she will never be forgotten.
Abagail Marie Henson, also known as Abby, died from a rare skin disease exactly one year ago on May 2, 2022.
A memorial garden was built in her honor on the playground at Walnut Ridge Middle School, and a gathering at the memorial will be held on Tuesday, May 2, for Abby's loved ones to remember her beautiful life.
The garden features new picnic tables, flowers, butterflies, and a new Bobcat-orange bench.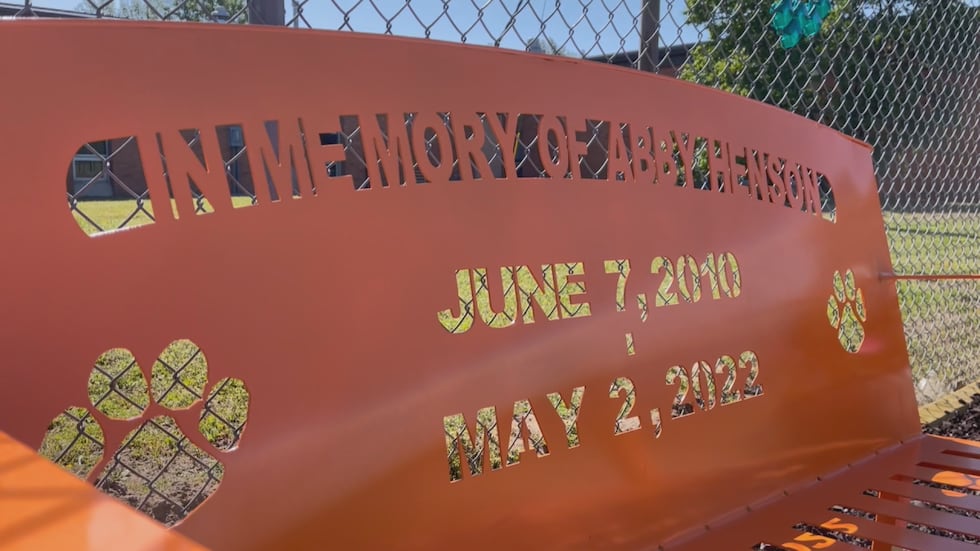 Butterflies are the symbol for Abby's disease named epidermolysis bullosa.
Abby's grandmother and guardian Peggy Henson said when she sees a butterfly, she also sees Abby.
"Every time we see something with a butterfly on it, we get it," Peggy said.
Peggy, along with several of Abby's teachers said she was the biggest Walnut Ridge Bobcat fan ever. Her grandma said there was nothing she loved more than her Bobcats.
"She'd say, 'Can we go to a game?' and I'd say, 'I'm afraid there is no game' and then she said, 'They just told us there was a game, I'm not dumb grandma,'" Peggy said.
The orange bench reads Abby's name, birthday, the day she died, and the phrase "Honorary Alleycat," which is the nickname for the Walnut Ridge High School Dancers.
Peggy said Abby loved to cheer and dance.
"She was an Alleycat dancer, and she loved to dance with the girls," she said. "So, she's dancing now."
Students gathered at the memorial garden on Tuesday, May 2, to remember the life of Abby and the legacy she left behind.
Henson said it was a great way to honor the life of her granddaughter.
"She loved this school. She was loved everywhere she went. She loved this place and her teachers. We're very honored to have this spot."
Copyright 2023 KAIT. All rights reserved.