Delce blanks Notre Dame, Hogs advance to Regional Final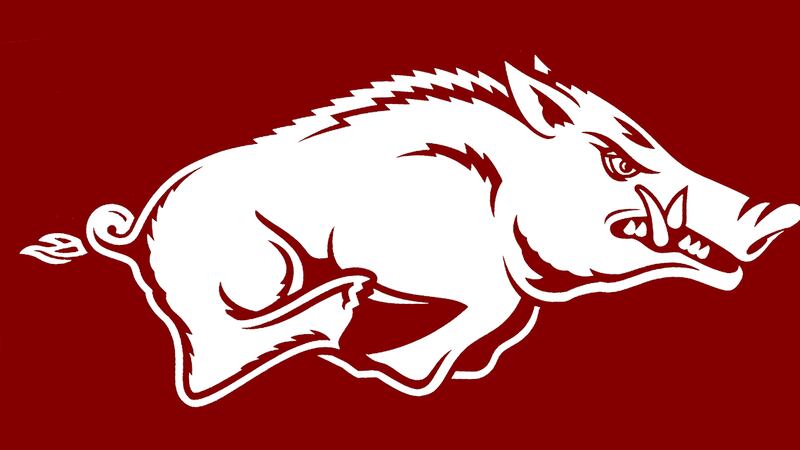 Published: May. 21, 2023 at 2:21 AM CDT
After falling to Oregon, the No. 11 overall seed Arkansas Razorback softball team bounced back and defeated Notre Dame, 5-0, Saturday night at Bogle Park.
The Razorbacks advance to Sunday's Fayetteville Regional Final at 1 p.m. vs. Oregon. Arkansas suffered a 10-4 loss against the Ducks earlier Saturday before taking on the Fighting Irish in an elimination game.
Arkansas moves to 40-18 on the season, marking its third consecutive 40-win season and the fourth total under head coach Courtney Deifel. Prior to Deifel's arrival, the program had just two 40-win campaigns.
Game 1 vs. Oregon
It was a back-and-forth contest until the top of the fifth.
Oregon and Arkansas both scored a run in the first. Arkansas jumped on board in the bottom of the first thanks to Cylie Halvorson's sacrifice fly to center that plated Reagan Johnson from third to even the score at 1-1.
The Ducks regained their lead in the top of the fourth on an RBI single to make it 2-1. Arkansas quickly responded again off the crack of Halvorson's bat. Halvorson parked a two-run home run for a 3-2 lead.
Oregon plated eight runs in the top of the fifth for a 10-3 lead.
Arkansas got a run back after Kristina Foreman's solo home run, cutting the deficit to 10-4.
The Razorbacks utilized three arms in game one. Chenise Delce got the start and spun 4.1 frames, surrendering three earned runs on seven hits while compiling two strikeouts. Hannah Camenzind went 0.1 innings and gave up five runs on three hits. Callie Turner tossed the remaining 2.1 innings, limiting Oregon to one run on three hits while fanning two.
Cylie Halvorson paced Arkansas with three RBI along with a 1-for-2 offensive performance. Reagan Johnson, Raigan Kramer and Rylin Hedgecock peppered two hits apiece.
Game 2 vs. Notre Dame
In her 17th complete game of the season, Chenise Delce was phenomenal in the circle. Delce threw her sixth solo shutout of the year, limiting Notre Dame to three hits while striking out seven. The NFCA First Team All-South Region honoree worked around a walk and did not allow an extra-base hit across 7.0 IP.
Arkansas grabbed an early lead in the top of the first after Hannah Gammill drew a bases-loaded walk for a 1-0 lead.
Raigan Kramer increased the lead to 2-0 in the second, pounding an RBI single to center that scored Lauren Camenzind from second.
Rylin Hedgecock added insurance in the top of the seventh after blistering a three-run home run to deep left, which propelled the lead to 5-0.
Hedgecock excelled at the plate and tied her career high in hits, finishing 3-for-3 with a three-run home run. Hedgecock pushed her season home run count to 21, which ranks third in single-season program history.
Kramer had another strong outing at the dish. Kramer finished with a base hit along with two runs scored and an RBI.
Reagan Johnson and Lauren Camenzind chipped in a hit apiece. Mashing the third-most single-season hits in program history, Johnson's season hits tally sits at 77 – four hits shy of tying Danielle Gibson's 2022 record of 81. The Karnes City, Texas, native is also on a four-game hitting streak.
Up Next
Arkansas and Oregon meet in the Fayetteville Regional Final at 1 p.m. CT Sunday. The game's TV designation is to be determined on ESPN's Family of Networks. With an Arkansas win, game two will begin approximately 35 minutes after the first game concludes with TV designation to be determined on ESPN's Family of Networks.
For schedule updates and other news, go to ArkansasRazorbacks.com, or follow @RazorbackSB on Twitter, Instagram and Facebook.
Copyright 2023 KAIT. All rights reserved.