Kendall Diggs hits walkoff HR, #4 Arkansas beats Texas A&M in SEC Tournament 2nd Round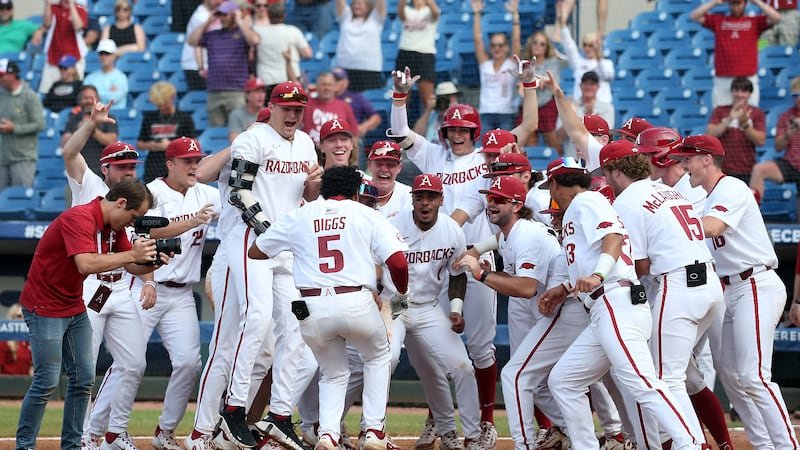 Published: May. 24, 2023 at 8:49 PM CDT
Kendall Diggs hit a leadoff home run in the bottom of the 11th inning to propel second-seeded Arkansas (40-15) to a thrilling 6-5 win over 10th-seeded Texas A&M (33-24) on Wednesday afternoon at The Hoover Met.
With the win, Arkansas advances to play third-seeded LSU at 4:30 p.m. Thursday, May 25. Left-hander Hagen Smith will get the start on the mound for the Razorbacks and go up against Tiger ace Paul Skenes. The winner of tomorrow's game between Arkansas and LSU will advance to the semifinals of the SEC Tournament on Saturday, May 27.
Diggs' homer, his 11th of the year, was his second walk-off hit of the season. The Razorbacks' designated hitter came through with a walk-off RBI double in the bottom of the 11th to lift Arkansas to a 10-9 win over Illinois State on March 1.
Texas A&M built an early 4-0 lead on Wednesday afternoon, tagging Arkansas starter Cody Adcock for three runs on two hits and two walks over his two innings of work. The Aggies added their fourth run against Razorback reliever Zack Morris in the top half of the fourth, but that would be the veteran left-hander's only blemish of the afternoon.
Morris went five innings in relief of Adcock, racking up five strikeouts and limiting the Aggies to just one run on three hits and a walk. His strong performance on the mound set the table for the Hogs' come-from-behind heroics.
Trailing 4-1 in the seventh, Arkansas loaded the bases with one out for Jared Wegner, who hammered the very first pitch he saw and swatted a go-ahead grand slam over the wall in left to put the Hogs ahead, 5-4. It was his 13th home run of the year, Arkansas' fifth grand slam of the year and the Razorbacks' first grand slam in the SEC Tournament since 2018.
Texas A&M, however, tied the game at five apiece in the top of the ninth with a one-out solo shot. Will McEntire, who relieved Morris to start the eighth, silenced the Aggies after that, collecting three strikeouts in his four innings of work.
The Razorbacks' walk-off heroics in the 11th allowed McEntire to improve to 7-3 on the year. Diggs homered on the fourth pitch he saw from Texas A&M pitcher Ty Sexton, picking up his team-leading 57th RBI on his game-winning swing.
Diggs and Peyton Holt, who had a pair of singles, both finished with a team-high two base knocks. Wegner, meanwhile, tallied a game-high four RBI and raised his season total to 48, good for second most among all Razorback batters.
Copyright 2023 KAIT. All rights reserved.