Small town festival celebrating 150 years
Published: May. 26, 2023 at 5:21 PM CDT
SWIFTON, Ark. (KAIT) - A small town in Jackson County is paying tribute to the past by celebrating everything that made them who they are.
Swifton is a town with just around 800 people, but that is not stopping them from celebrating the city's 150th birthday with a festival.
Organizer of the festival, Drake Slagley, said this is something they have worked hard on as it is very important to them.
"You know it took a lot of time and effort and numerous people and we have had many people we have had a committee we have been meeting since January so we can put this on for the city"
Locals like Natalee Moon know the importance of history.
She and others have created a living museum in the Swifton Community Center where people can look back on everything that made this town so unique.
"Just focusing on our towns history and that we are still here after 150 years and we got people coming into town from all over I have already seen two high school friends I haven't seen in a while," Moon said.
Slagley said with it being such a small town, they usually can not throw events like this but said it is special to change that this year.
"Just being able to have everyone coming together in a small town, like I said, we don't get to do this a lot and being from a small town, it means a lot," Slagely said.
The event took place from Wednesday, May 24, to Saturday, May 27.
Featured at the event were parades, shows, food, and bouncy houses, with the Kenny Crider and Dixon Street bands performing at the end.
From a pet show to vendors to a baking contest and bouncy houses, the celebration was not short of fun for families.
The event closed out with a live performance.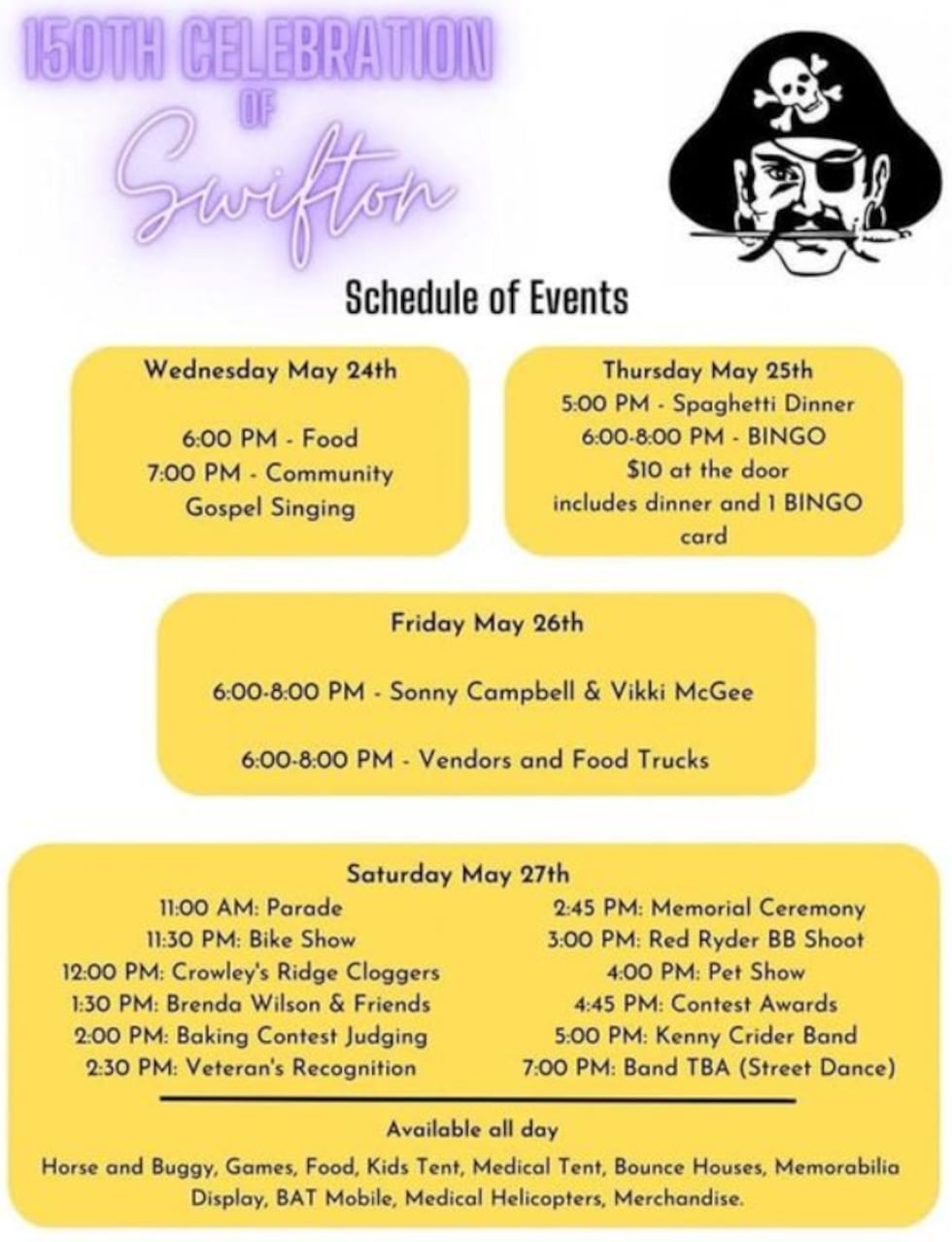 Copyright 2023 KAIT. All rights reserved.