Missouri offering free vouchers for low income senior-age adults to get fruits and vegetables at Farmers Markets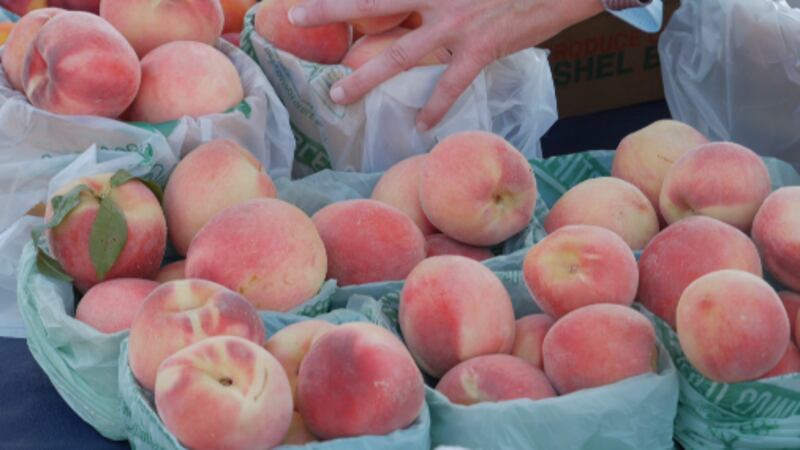 Published: Jun. 5, 2023 at 6:03 PM CDT
SPRINGFIELD, Mo. (KY3) - Low-income seniors age 60-and-over can now get free $50 vouchers for fresh produce at participating farmers markets.
The Senior Farmers Market Nutrition program, now in its fifth year, is sponsored through the Missouri Department of Agriculture and in the Springfield area the vouchers are available at the SeniorAge Area Agency on Aging at 1735 South Fort Avenue.
On Monday there was a long line of people waiting to get their free coupons.
"They love this program," said Susan Hughes, the SeniorAge manager of the local voucher initiative that serves 17 counties in southwest Missouri.
Even those who don't consider themselves fruit-and-veggie lovers turned out.
"I'm more meat-and-taters," laughed Al Crossland, an 80 year-old Springfieldian who was in line. "But as I get older I do think more about eating nutritious food which is why I go to the senior center to eat lunch and take advantage of this. It's food that I probably wouldn't buy otherwise."
"We hear that a lot," echoed Hughes. "Because fruits and vegetables are very expensive a lot of people on a fixed income have to pick between groceries and medicine. So even though it's just $50, it can make a difference. It's $50 and the produce is homegrown."
The free vouchers are being made available through the end of September and can be used until the end of October.
When you sign up you'll get a list of the farmers markets where the vouchers can be used. Once you get there you will see authorized farmers who will be identified by a sign that states the booth is proudly participating in the Farmers Market Nutrition Program.
"The Farmers Market Nutrition Programs have proven beneficial for everyone involved," said Director of Agriculture Chris Chinn. "Our farmers raise delicious, quality products and are able to assist their bottom line by participating in these programs that are also important for recipients and the local economy."
When you apply for the vouchers you'll need to bring the following:
• Proof of identity and age (drivers license or birth certificate-must be 60-or-older)
• Proof of residency (utility bill or other bill showing address)
• Proof of income (Social Security benefit statement, pay stub, w-2, banking summary)
The above items are important to determine if you qualify as you must be at least 60 years old and have a household income at-or- below 185 percent of the federal poverty line. That information can be looked up online.
"Just to give you an example for one person you can't make over $26,000 a year," Hughes said. "And that includes all income like Social Security and pensions."
As to how much difference this can make in someone's life?
"Just today I had a woman who came in and her husband had recently passed away so she's still dealing with living on her own," Hughes recalled. "She had tears in her eyes when she said, 'I can't believe I qualify for this! This is such a big help to me right now.' That's because when you lose a spouse there goes half your income and when you're trying to deal with how to adjust, sometimes just that measly $50 is the biggest thing that can happen to you."
For more information you can call SeniorAge at 417-862-0762 and also find out the times and days you can sign up.
It's also important to note that the low-income program for women, children and infants (WIC) can also apply to receive benefits totaling $20 to purchase eligible foods from an authorized farmer at a Missouri farmers market or roadside stand. WIC participants can request Farmers Market Nutrition Program benefits from the same agency where they receive their WIC benefits.
To report a correction or typo, please email digitalnews@ky3.com
Copyright 2023 KY3. All rights reserved.