Giuliani denies claims he coerced woman to have sex, says she's trying to stir 'media frenzy'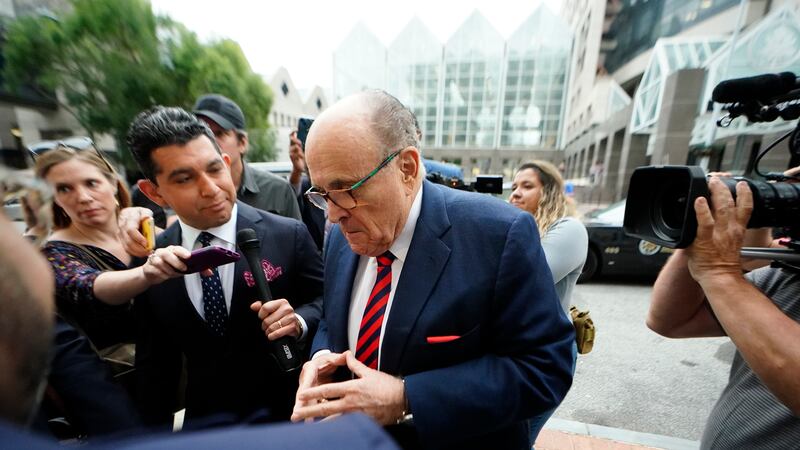 Published: Jun. 6, 2023 at 6:59 PM CDT
NEW YORK (AP) — Former New York City Mayor Rudy Giuliani says a woman's lawsuit alleging he coerced her into sex and owes her nearly $2 million in unpaid wages is "a large stretch of the imagination" filled with exaggerations and salacious details "to create a media frenzy."
Giuliani said in court papers that he had a consensual relationship with Noelle Dunphy "for a few months" in 2019, during his time as former President Donald Trump's personal lawyer, but denied she ever worked for him or that he pressured her into sex.
Dunphy's lawsuit, filed last month in state court in New York, "contains a blunderbuss of contradictory allegations," Giuliani said in his written response last Friday. Her "singular objective" is to defame him, he said.
Giuliani wants a judge to throw out the lawsuit. If that doesn't happen, he wants what he described as the most "frivolous, inflammatory, and unnecessary" accusations removed from the case. He's also asking for Dunphy to be penalized by the court for "inappropriate behavior."
Dunphy's lawyer, Justin Kelton, said Tuesday that Giuliani is the one filling his court papers with "misrepresentations" in a "transparent attempt to avoid having to answer" her allegations under oath.
"The allegations at issue in his motion go directly to the heart of Ms. Dunphy's claims that she worked for Mr. Giuliani, that she was subjected to an outrageously hostile work environment, and that he repeatedly pressured her into unwanted sexual contact," Kelton said. "Ms. Dunphy will vigorously oppose Mr. Giuliani's attempt to erase his alleged conduct, and will hold Mr. Giuliani to account for his false statements."
Giuliani's political and communications adviser Ted Goodman said: "I'd encourage everyone to read the motion in full. The motion speaks for itself."
Dunphy claimed in her lawsuit that she worked off the books as Giuliani's business development director and public relations consultant from 2019 to 2021. She is seeking at least $10 million in damages.
Dunphy claims Giuliani promised to pay her $1 million per year for her consulting work but told her that he had to defer paying her until he settled his divorce from his third wife, Judith.
Giuliani reached a divorce settlement in December 2019, but Dunphy said all she got from Giuliani were a few cash payments totaling $12,000 to cover living expenses and that he still owes her $1,988,000.
Among the allegations Giuliani wants stricken from the lawsuit are Dunphy's claims that he was a hard-drinking, Viagra-popping womanizer who made satisfying his sexual demands "an absolute requirement of her employment."
Giuliani also took issue with Dunphy comparing some of his behavior to the scene in the 2020 film "Borat: Subsequent Moviefilm" where he is shown lying on a bed, tucking in his shirt with his hand down his pants with a young woman acting as a television journalist nearby.
"This is the very definition of a scandalous and prejudicial allegation," Giuliani wrote.
Dunphy claimed in the lawsuit to have made numerous audio recordings of Giuliani, including some in which she says he can be heard making sexual comments, demanding sex and making sexist, racist, and antisemitic remarks.
Her legal team has declined a request from The Associated Press to share those recordings, saying they are part of the litigation.
Dunphy, in her lawsuit, also accused Giuliani of reneging on a promise to represent her, for free, in a protracted legal fight involving claims of domestic violence.
In that legal fight, Dunphy had accused a romantic partner of raping her and throwing her down a flight of stairs. The man she sued filed a counter lawsuit, saying he was the one being physically assaulted and harassed. He also sued for defamation, saying he was being extorted.
Giuliani, in his response to Dunphy's lawsuit, cited her previous legal dispute as evidence that she is a "seasoned professional at accusing former romantic partners of misdeeds in civil litigation."
Dunphy agreed to accept $10,000 to settle her claims in 2016. But the two sides were still fighting over a final resolution as recently as last year.
The Associated Press does not typically identify people who say they are victims of sexual abuse unless they grant permission, as Dunphy has done.
__
Follow Michael Sisak on Twitter at twitter.com/mikesisak and send confidential tips by visiting https://www.ap.org/tips/.
Copyright 2023 The Associated Press. All rights reserved.