Dolphins re-sign James Blackman, former A-State QB will play in preseason finale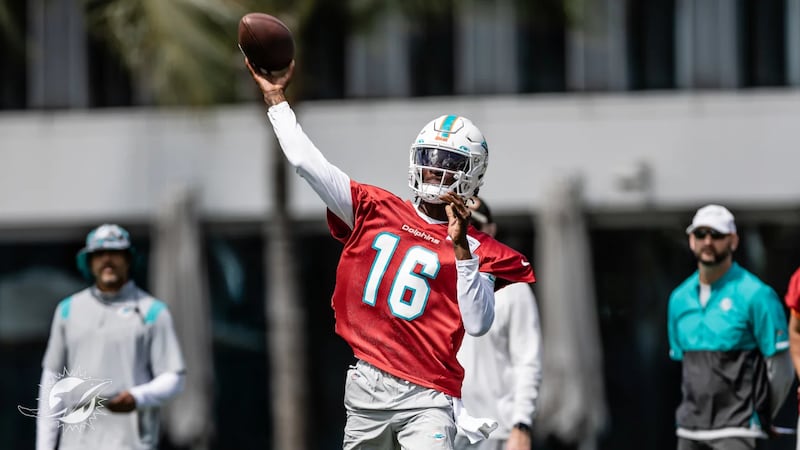 Published: Aug. 24, 2023 at 1:56 PM CDT
MIAMI, Fla. (KAIT) - A former Red Wolves quarterback will play in the final week of the NFL preseason.
The Dolphins re-signed James Blackman on Monday. The undrafted free agent was with Miami for rookie minicamp and training camp. Blackman played for Arkansas State in 2021 and 2022, the Florida native began his college career at Florida State. He threw for 2,471 yards, 14 touchdowns, and 3 interceptions in 2022, he also tacked on 3 rushing scores.
Dolphins head coach Mike McDaniel was asked about Blackman in his Thursday media availability. "Yeah, I'm expecting him to get some snaps," McDaniel said. "What an opportunity for a guy that deserves it. All he's done is put his best foot forward. And that's a tough job sometimes when your literal job is to learn, not as much through action. You don't get into football so that you can go to meetings. Sometimes that's his role. Sometimes the most burn that he gets in practice is 1 on 1s, sometimes he takes some team reps. It's one of the reasons I appreciate the preseason, guys get opportunities. I'm fired up for him, and I think his teammates are too. He's a guy that does things the right way, and is always prepared for his opportunities regardless of how many there are."
The Dolphins will face the Jaguars Saturday at 6:00pm CT.
Copyright 2023 KAIT. All rights reserved.