A-State football holds weekly press conference, names J.T. Shrout starting QB for season opener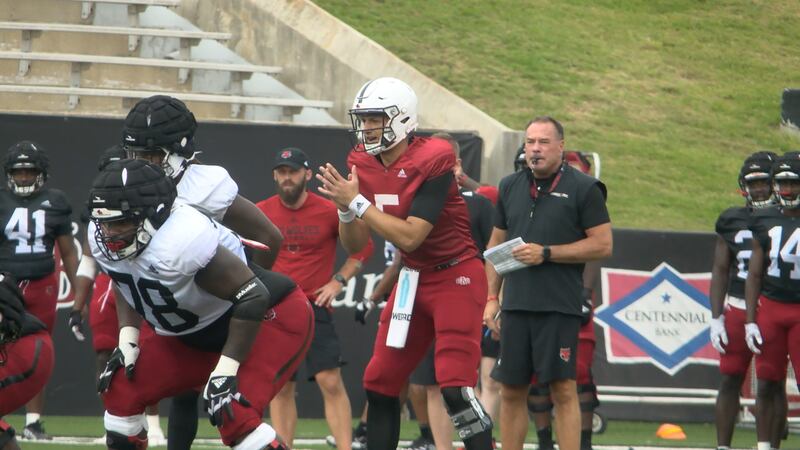 Published: Aug. 29, 2023 at 12:44 PM CDT
|
Updated: Aug. 29, 2023 at 4:50 PM CDT
JONESBORO, Ark. (KAIT) - Arkansas State football has decided on a signal caller for the season opener.
Butch Jones announced that redshirt senior J.T. Shrout will be the starting quarterback for the Red Wolves Saturday at #19 Oklahoma.
"We call it an organizational chart," Jones said in a Tuesday press conference. "All that means is who is going to take the first rep... in terms of the quarterback situation, J.T. Shrout will start the game."
Shrout played in 9 games for Colorado in 2022. He threw for 1,220 yards with 8 total touchdowns (7 passing, 1 rushing) and 8 interceptions, completing 44 percent of his passes (90-203). J.T. had the game-winning TD pass in the Buffaloes' lone win last season. The California native threw for a season-high 222 yards and 2 touchdowns against Arizona State.
According to Pro Football Focus, 19.5 percent of his on-target, catchable passes were dropped by receivers in 2022, the highest rate among all FBS quarterbacks.
Shrout started his college career at Tennessee, appearing in 8 games over 2 seasons. He completed 54 percent of his passes, tossing for 502 yards with 5 touchdowns and 3 interceptions.
He entered the camp competing with redshirt freshman Jaxon Dailey and true freshman Jaylen Raynor for the starting role.
Dailey appeared in 3 games for the Red Wolves in 2022. The Iowa native was 5 of 9 passing for 34 yards at Louisiana. Jaxon was the first commit in the Red Wolves 2022 recruiting class. Dailey threw for 240 yards, 2 touchdowns, and 1 interception in the 2023 Pack Day Spring Game. He was a 3-star prospect coming out of high school, the Iowa All-State QB led Southeast Polk to the 2021 state championship.
Raynor turned plenty of heads throughout the spring and fall with his playmaking ability, particularly running the football. The North Carolina native was the Red Wolves' first QB commit in the Class of 2023, choosing A-State over Wofford, Army, Navy, Air Force, UMass, Miami (OH) and others. He threw for just under 3,000 yards and rushed for over 1,250 more in 2022, accounting for 57 total touchdowns to just 3 interceptions en route to getting named a Mr. Football finalist.
"That's really, really a special room, they have great character," Jones said. "I expect Jaxon and Jaylen to keep competing... it was as close of a competition as I've been a part of."
We had more More Red Wolves on the mic on a Talkin' Tuesday. Charles Willekes and Jacob Bayer are embracing the challenge and opportunity against a top 20 team.
"At the end of the day you're just playing football," Willekes said. "They're football players just like us. They've been doing it their whole lives, we've been doing it our whole lives. This is what we do. And I think a lot of those guys have that mentality. The way we practice, the way we do things, around here, we do it at a very high level."
"It's definitely exciting," Bayer added. "I've never played a team like this, so I'm excited to kinda feel what it's like. Feel the crowd noise, feel the excitement to come play such a big team. Obviously we're seen as underdogs, so I feel like it's a good thing. Feel like I'll be able to do a lot of good things up there."
Arkansas State travels to #19 Oklahoma for the season opener. The Red Wolves and Sooners face off Saturday at 11:00am on ESPN.
Copyright 2023 KAIT. All rights reserved.