Vote for the Yarnell's Sweetest Play of the Week (9/1/23)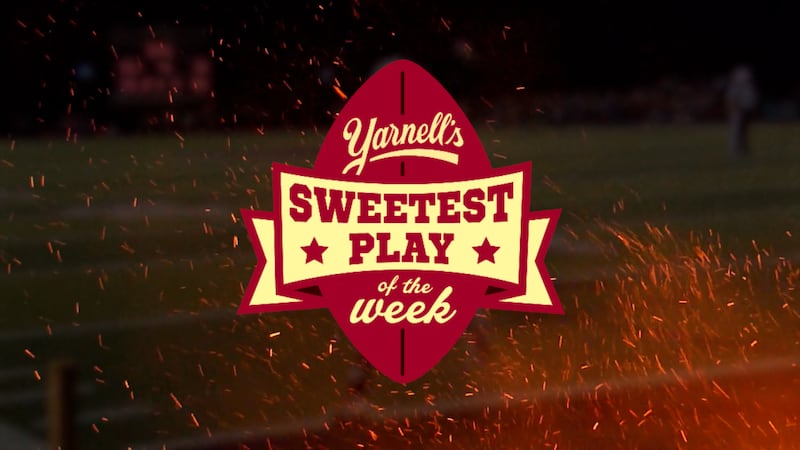 Published: Sep. 2, 2023 at 6:14 AM CDT
|
Updated: Sep. 3, 2023 at 12:16 AM CDT
An Arkansas tradition continues: The Yarnell's Sweetest Play of the Week. Here are the NEA nominees from games played on September 1st, 2023.
Nettleton (Curtez Smith 84 yd TD run)
Nominee #1 is Nettleton. Curtez Smith takes it 84 yards for the touchdown. The Raiders beat Pocahontas 42-14 to pick up their first win of the season.
Hoxie (Kayden Glenn TD pass to Jake Jones)
Nominee #2 is Hoxie. Kayden Glenn rolling and finding Jake Jones for the sling, snag, and score. Mustangs beat Westside 42 - 6 to start 2 and oh.
Paragould (Corbin Bailey scoop and score)
Our third nominee is Paragould. Heads up play by Corbin Bailey, it's a scoop and score off of the backwards pass. The Rams beat Piggott 34 - 6.
Mountain Home (Cade Yates TD pass, Jett Hannaford one handed catch)
Our final nominee is Mountain Home. Cade Yates wore #15 to pay homage to Ryan Mallett, he goes up top, Jett Hannaford makes the one handed grab for the touchdown. The Bombers beat rival Harrison for the first time in 11 years, 44 - 31 the final.
VOTE FOR THE YARNELL'S SWEETEST PLAY OF THE WEEK (POLL OPEN SUNDAY 8:00AM - TUESDAY 8:00AM)
You can vote starting Sunday at 8:00am on kait8.com and on the Region 8 News app. Yarnell's will deliver free ice cream or donate money to the booster club of the winning school.
Copyright 2023 KAIT. All rights reserved.