Missouri Department of Conservation adds two new hunting seasons for the 2023 season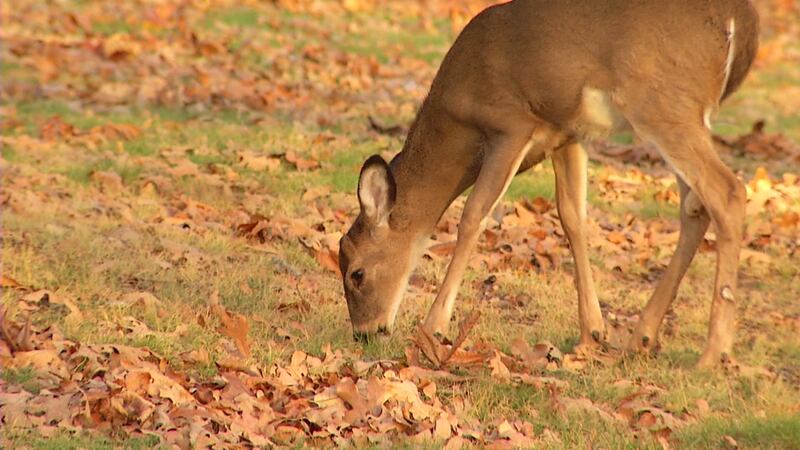 Published: Sep. 3, 2023 at 6:23 AM CDT
|
Updated: Sep. 3, 2023 at 10:09 AM CDT
SPRINGFIELD, Mo. (KY3) - The Missouri Department of Conservation is adding two new hunting seasons for 2023, giving hunters an extra chance to hunt deer.
Francis Scalicky, media specialist for MDC, says that this is due to a high deer population in the state for the year.
"The deer population is abundant. I wouldn't say it's higher than usual. It's it's a little over a million in Missouri, and it's been that way for several years now. So the deer population is abundant," said Scalicky.
The first season is an early antlerless season. Bucks are off-limits, but hunters can go for doe's. Scalicky says this is because does drive the population up, so by hunting more does, the MDC can make sure the population doesn't grow too big.
"Think about it: when you kill a buck, you've just killed one deer, but when you kill a doe, you kill a doe that will probably have at least two fawns for the following year. So that's a good way to manage the population numbers," said Scalicky.
That season runs from October 6 through 8. MDC says it's not only a good way to control populations, but a great way for hunters to go for more deer.
"I mean, one of the appeals of deer hunting is that they are getting meat that they can't buy in the store. You can't go into the grocery store and buy venison," said Scalicky. "But another thing we hope deer hunters get from this is another opportunity to appreciate Missouri outdoors."
The other season is a Chronic Wasting Disease, or CWD season. Hunters are able to voluntarily submit their deer for chronic wasting disease testing, either through a scheduled appointment with MDC or at one of their sample drop-off sites.
Chronic Wasting Disease is a disease that affects deer's neurological systems. As of now, there have been no reported cases in humans, according to the CDC. MDC wants to emphasize that the disease is not super prevalent in Missouri, but they still want to keep track of it.
Scalicky says the benefit of this season is two-fold. On one hand, it gives MDC a chance to get a better idea of just how many cases of CWD there are in Missouri, as well as thin out the population to lessen the spread of the disease.
"So that will give us an opportunity to collect a few more CWD samples, it will also reduce the spread of the deer because, or reduce the spread of the disease, because when the disease spreads by deer to deer contact, if you take a few deer out of that population, well, obviously you have less of a chance of it spreading from deer to deer," said Scalicky.
It isn't required to get your deer tested, but MDC recommends it. That season runs from November 22 to 26 in several counties around the state, such as Greene, Polk, Christian, Stone, and Taney Counties.
To find a CWD testing site, you can visit here.
MDC says that if you're looking at hunting this season, you should first get a deer regulation book from the MDC. Then, schedule a time to hunt and get your permits. You can get those at MDC offices, or wherever hunting and fishing permits are sold. Make sure you know which counties hunting is permitted in. Finally, Scalicky says to do some scouting and decide where you're going to hunt.
"If you're going to hunt on private land, make a connection with a landowner, if you're going to hunt on public land, maybe get on our website and read up a little bit about the area where you're gonna go hunting out. And then good luck," said Scalicky.
For more information on this year's deer season changes, you can head here.
To report a correction or typo, please email digitalnews@ky3.com
Copyright 2023 KY3. All rights reserved.