Whaley: What we learned from Arkansas State football week 1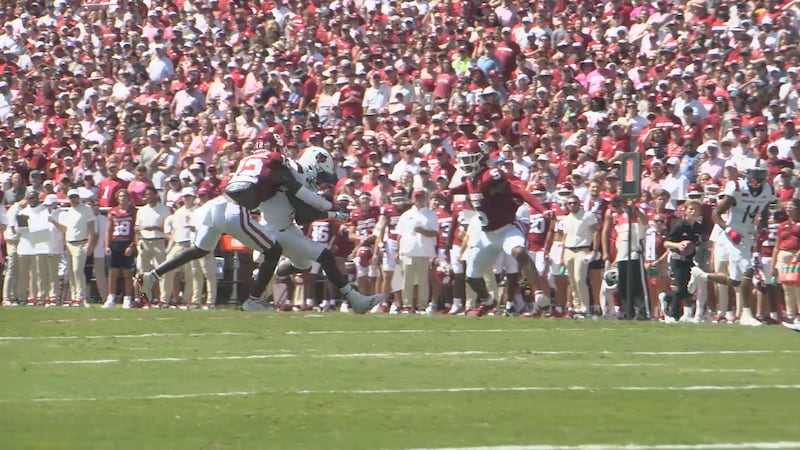 Published: Sep. 5, 2023 at 6:30 PM CDT
JONESBORO, Ark. (KAIT) - Before I start this, let me be honest with all of you. I'm a stat nerd. Always have been, always will be. So when I had the idea to write some sort of retrospective of Arkansas State football, Sports Director Chris Hudgison (who also bears with my stat nerdiness) encouraged me to do it.
What these articles won't be: A hot take factory to gain clicks. My job is to stay objective, so if something good or bad is worth mentioning, I'll say it.
What it will be: An outlet to gain access to stats that are usually behind a paywall, put into context with analysis from me and (sometimes) Chris (I will rope him into this article one of these days), for the purpose of gaining more insight into the highs and lows of A-State football, released every couple weeks (maybe weekly if you all want more of it).
With that being said, let's dive right in.
I don't need to tell you how bad Saturday was. Most of you saw the 73-0 rout in Norman with No. 19 Oklahoma beating the Red Wolves. But while it's easy to just write it off as a throwaway game, we still did learn some things about A-State.
For most of these blurbs, I will be using advanced stats from Pro Football Focus. It's a site that grades every player from every game after watching every snap from each FBS football team, you can check out their grades from week one here ($).
PFF is not perfect by any means (coaches will usually grade things a bit differently than PFF will), but it can give us more insight into how a player is used, trends for a team, etc.
One last thing before we dive in, it's only week one. A game like this is likely an anomaly so the majority of these stats will not be indicative of how the team performs the rest of the season. Some areas will improve, others will stay the same, but it's still interesting to look at.
OFFENSE
O-Line improvement... kind of
Starting QB J.T. Shrout did not get sacked, which is very much a positive. But what is a bit concerning is the pressure rate. Shrout was pressured on 40.7 percent of his dropbacks, the senior going just 2-11 on those plays. For reference, James Blackman was pressured on 38 percent of dropbacks last season. Shrout had a time to throw of 2.49 seconds, fourth fastest in FBS in week one.

Redshirt sophomore Makilan Thomas was A-State's highest-graded pass blocker, only allowing two pressures on 31 snaps.

As Butch Jones pointed out, run blocking was an issue. The Red Wolves graded out as the fourth-worst run-blocking team in the country in week one. This led to backup QB Jaxon Dailey leading the team in rushing with 11 yards.

Shrout went 10-15 for 113 yards when the pocket was kept clean.
Brand new weapons making early impact
Syracuse transfer Courtney Jackson had three receptions for 66 yards Saturday, getting graded as A-State's best wideout. Jackson lined up at slot receiver for most of the game and had the Red Wolves' longest play of the night with a 47-yard pass and catch.

True freshman Tennel Bryant didn't grade out well by PFF (thanks to his fumble), but it's hard to ignore racking up 33 yards and receiving three touches while only being out there for six snaps on passing downs.

"I thought Tennel Bryant, even though he turned the football over, true freshman out of Cincinnati Moeller, I thought he looked like he belonged on the field," Butch Jones said of Bryant. "I think he's going to add another element to us offensively in moving forward."

Red Wolves will look to have better days from Corey Rucker and Emmanual Stevenson. The two combined for two catches on eight total targets, including three drops.
RB committee
Redshirt sophomore Ja'Quez Cross got the start at running back for the Red Wolves, but Butch Jones started the first three drives with three different RBs: Cross, Zak Wallace and Brian Snead. Wallace played the most snaps (20), followed by Snead (13) and Cross (12).

Worth noting that all three RBs graded well in pass-blocking, something many coaches value among their backs.
DEFENSE
Injuries
The secondary struggled on the injury front. Justin Parks didn't play. Samy Johnson was hurt early and only played 11 snaps. Justin Hodges was banged up but returned to the game later.

Ethan Hassler and Javante Mackey were also shaken up on plays. Mackey appeared to be fine, playing the second-most snaps of anyone on defense (63).
Revamped linebacker room
Mackey, the redshirt freshman, had 11 total tackles and was the highest-graded player on defense. Melique Straker was the other Red Wolf with double-digit tackles.

The second-highest? Kansas transfer Gavin Potter, who had 4 tackles and 2 TFL.

The top six graded players for coverage against receivers were all linebackers (Potter, Charles Willekes, Mackey, Dane Motley, Sam Graham, Straker).
ANALYSIS
Logan: It was about as sloppy of a game I've seen Arkansas State play under Butch Jones. Sure, Oklahoma is a team that could be Top 10 before this season is said and done, but 14 penalties combined with drops on offense, the inability to run the ball, explosive plays surrendered and special teams miscues (uncharacteristic under Jones' teams) made this one a game to forget.
"I thought [Oklahoma] out-athleted us," Jones said after the game. "The speed differential was probably the most glaring I've probably seen in my career."
"We got exposed today, and I am responsible for this," he added. "I know the caliber of football team that we played is very, very good. But we still talk about playing to a standard, and we did not play to a high level, to a standard of performance that we talk about, so all we can do is learn from it."
To me, the Memphis game this week will be more of a gauge of where this team is at than what we saw a few days ago.
The Tigers beat FCS foe Bethune-Cookman last week 56-14. The Tigers are still led by Seth Henigan at QB and an offensive line that saw him get pressured on just six of his dropbacks, while the team rushed for over 200 yards (5 a carry) and 5 TDs.
We'll see what happens Saturday night at 6:00 p.m.
Copyright 2023 KAIT. All rights reserved.