Arkansas governor to hold special session focusing on tax cuts, FOIA updates, COVID-19 rules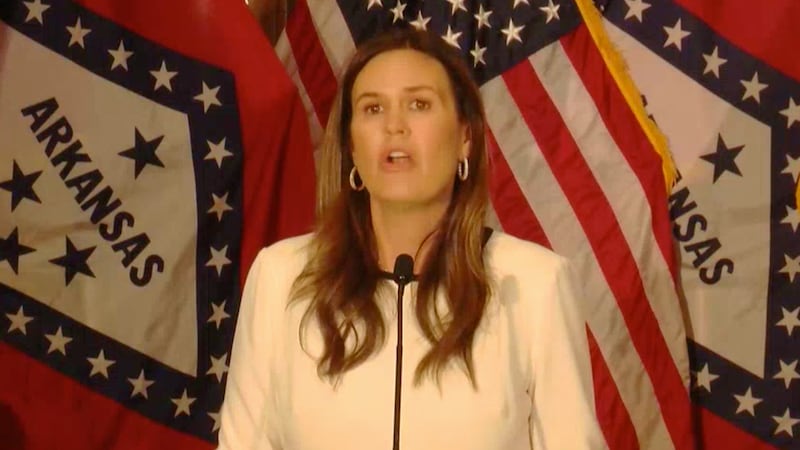 Published: Sep. 8, 2023 at 4:27 PM CDT
LITTLE ROCK, Ark. (KARK/KAIT) - Arkansas Gov. Sarah Huckabee Sanders, along with state Sen. Jonathan Dismand and state Rep. David Ray, has called a special session focusing on tax cuts, the COVID-19 pandemic, and freedom of information.
According to our content partner, KARK-TV, on Friday morning, many lawmakers found themselves back at the Capitol as they broke down topics that would be discussed in the session.
"When I took this office, I promised to limit the growth of government before government could limit the growth of liberty," Sanders said. "To achieve that, today, I'm calling a special session of the legislature, beginning next Monday, focused on three things, cutting taxes, streamlining state government, and protecting our freedom."
The topics discussed are listed below:
Tax Cuts: The governor stated that by the end of the conference, the state would have cut $250 million in annual personal income taxes and $58 million in annual corporate income taxes, the article stated. Sanders said that the personal income tax rate would be lowered to 4.4%, and the corporate income tax to 4.8%.
Freedom of Information Act: Sanders said that during the session they will focus on updating the sections of the Freedom of Information Act. These changes would lift Arkansas State Police requirements regarding the disclosure of sources and methods used to protect the governor outside the Governor's Mansion.
COVID-19 regulation changes: During the session, special changes were introduced that would restrict mandates and other rules tied to the COVID-19 response. Such changes include banning vaccine mandates for all state employees.
The special session is set to begin on Monday, Sept. 11, and end Wednesday, Sept. 13.
For more information, you can visit KARK-TV's website.
Copyright 2023 KAIT. All rights reserved.