Arkansas rice industry donates over 240,000 pounds of rice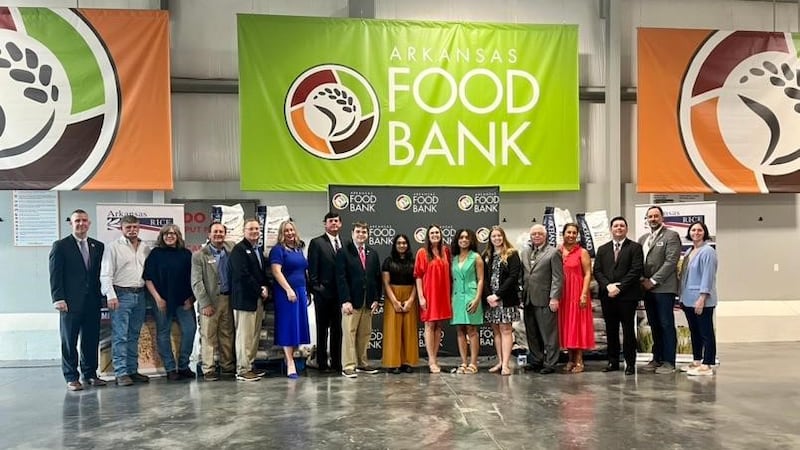 Published: Sep. 21, 2023 at 7:33 PM CDT
LITTLE ROCK, Ark. (KAIT/Edited News Release) - The Arkansas rice industry donated 240,000 pounds of rice to the Arkansas Foodbank in honor of National Rice Month on Wednesday.
The donation from ten mills will provide nearly 1.8 million servings of rice to help feed families, children, and seniors across the state.
Participating rice mills are Anheuser Busch of Jonesboro, Arkansas River Rice of Pine Bluff, Isbell Farms of Humnoke, Poinsett Rice & Grain of Jonesboro, Producers Rice Mill of Stuttgart, Ralston Family Farms of Atkins, Riceland Foods, Inc. of Stuttgart, Riviana Foods of Carlisle, Specialty Rice, Inc. of Brinkley, and Windmill Rice Company of Jonesboro.
"Arkansas rice farmers grow over 50% of the nation's total crop and will produce rice on 1.4 million acres this year in over 40 counties, all of which are served by the food banks of Arkansas," said Arkansas Rice Executive Director Kelly Robbins. "As rice harvest continues, our growers try to be good stewards by giving a portion of their crop to hunger relief efforts in our state."
September is also Hunger Action Month. Arkansas ranks second in the nation for food insecurity. One in five children do not know where their next meal will come from. This rice donation will go directly to agency partners and will fill shelves at food pantries for families in need.
"This gift of rice to the Foodbanks of Arkansas is so much more than just a meal. This rice will provide hope and nourishment to those who need it most," said Arkansas Foodbank CEO Brian Burton. "This record-setting donation will be distributed between the five other Feeding America food banks in our state who are working to provide food to our neighbors: River Valley Regional Food Bank in Fort Smith; Food Bank of Northeast Arkansas in Jonesboro; Harvest Regional Food Bank in Texarkana; Arkansas Foodbank in Little Rock; and Northwest Arkansas Food Bank in Springdale. All of us are incredibly grateful for our rice farmers who play such a critical role in the fight against hunger."
Copyright 2023 KAIT. All rights reserved.