Arkansas State QB Jaylen Raynor earns multiple honors following first start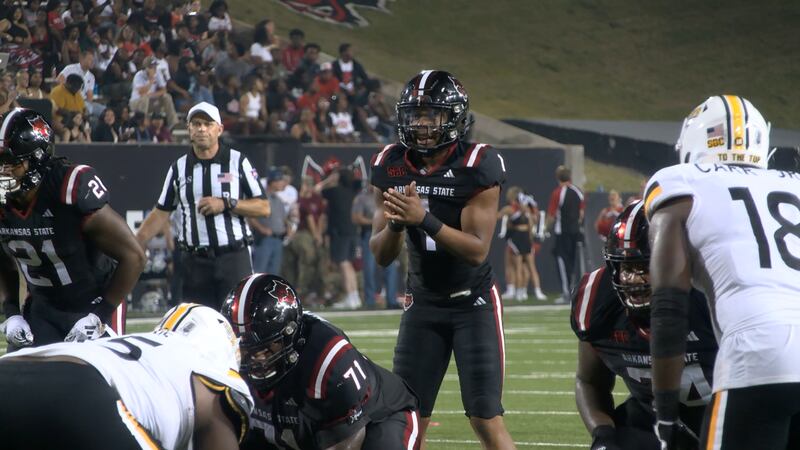 Published: Sep. 25, 2023 at 10:12 AM CDT
|
Updated: Sep. 25, 2023 at 11:25 AM CDT
JONESBORO, Ark. (KAIT) - Jaylen Raynor is earning national attention after his first Arkansas State start.
The true freshman quarterback is one of eight Manning Award Stars of the Week. The Allstate Sugar Bowl honors the top signal callers in the nation in weekly awards and an award at the end of the season. Fans can vote online for the top performance of the week.
Raynor threw for 233 yards, rushed for 97 yards, and accounted for 5 TD (3 pass, 2 rush) as the Red Wolves beat Southern Miss 44-37. The North Carolina native became the first QB in A-State FBS history to lead the team to a victory in his first start.
Raynor is the first Arkansas State QB to earn Manning Award Star of the Week honors since Layne Hatcher in 2020. He's one of two Sun Belt QBs to earn Manning Award honors this week (Jordan McCloud - James Madison).
The North Carolina native was also named to the Davey O'Brien Award's Great 8 List. The organization will announce its National Quarterback of the Week award Thursday morning at 11:00 a.m.
"The Davey O'Brien Foundation was created in 1977, and the National Quarterback Award, the oldest and most prestigious college quarterback award, was first issued in 1981," the organization said. "Over its time, the Davey O'Brien Foundation has given away more than $1.3 million in scholarships and university grants to help high school and college athletes transform leadership on the field into leadership in life."
The group usually has eight selections each week, representing the first Heisman Trophy winner's number that he wore at TCU, but they opted to utilize its "Davey Double," expanding the list from eight players to 16 this week. Raynor joins SBC QBs Jordan McCloud (JMU) and Davis Brin (Georgia Southern) on the list.
Copyright 2023 KAIT. All rights reserved.