Low river levels lead to problems along the Mississippi
Published: Sep. 28, 2023 at 4:27 PM CDT
|
Updated: Sep. 28, 2023 at 6:00 PM CDT
OSCEOLA, Ark. (KAIT) - With a new year comes the same low river level problems on the Mississippi River affecting companies all along the banks.
Jeff Worsham, the Osceola Port Manager for Poinsett Rice and Grain, said they must scramble when the water levels reach -10.4 ft.
"Well, we are down to one dock out of three that we normally use, and on that one dock, we are only loading barges at 60% capacity than we normally do, and instead of two a day, we are doing 3 or 4 a day," Worsham explained.
After the river at Osceola hit a record low last year at -11.6 ft., Worsham and his staff made sure they were more prepared this year. They are making sure if barges can not make their way down, they at least have some on hand.
"We are keeping more barges around ahead of time, and we started to address before the water got down to where it is a problem," Worsham said.
While the sand on the port's backside is not normal for this time of year, as Worsham said they desperately need rain but it has to come north of us.
"Anything from here south does not really help us on this end of the river but a good front coming across the Ohio River Valley would make a big difference," Worsham said.
Unfortunately, that front is nowhere to be found, as models show these low numbers, could continue into mid-October.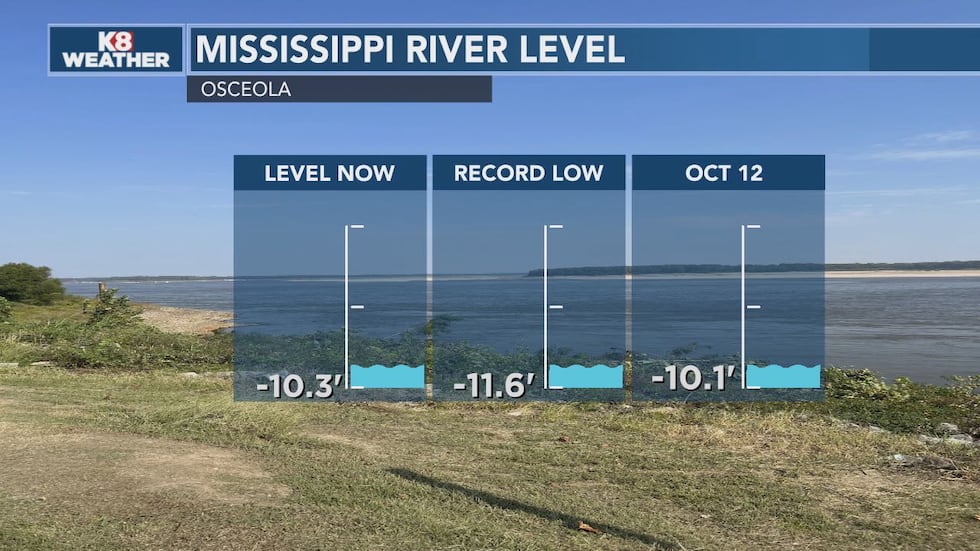 "That is expected to stay kind of steady for the foreseeable future. No rain really in sight," Worsham said.
Copyright 2023 KAIT. All rights reserved.