A-State men's golf sets low 36-hole record, leads Bubba Barnett Intercollegiate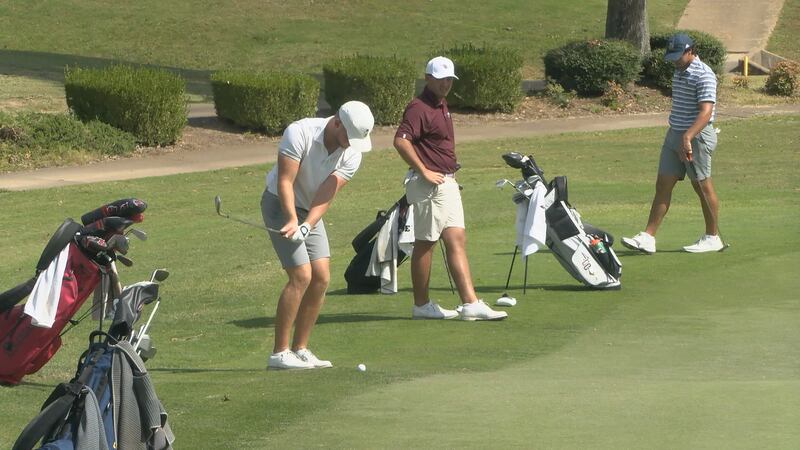 Published: Oct. 2, 2023 at 9:07 PM CDT
JONESBORO, Ark. (KAIT) - Totaling 35-under par 541, the Arkansas State men's golf team set the lowest 36-hole total in program history and leads 15 other teams after two rounds of the 28th annual Bubba Barnett Intercollegiate at RidgePointe Country Club.
A-State opened the day at 18-under par 270, the second-lowest round in program history, and followed with a 17-under par 271, the fourth-lowest round in program history to total 35-under par and lead Jacksonville State (-23) by 12 strokes. Murray State (-21) tied A-State's course record from 2020 in the second round at 19-under par 269 and sits third. Memphis (-18), New Orleans (-12), Belmont (-6) and UT Martin (-6) are also under par after 36 holes.
Seven of the eight Red Wolves are 6-under par or better and seven are inside the top-eight individually. Thomas Schmidt totaled 11-under par 134 (68-66) to rank second, one shot shy of Jacksonville State's Erik Janson (-12) for the individual lead. Pierce Johnson (68-67) and Jack Maxey (66-69) are tied for third at 9-under par 135 while Chris Somerfield is seventh at 7-under par 137 (68-69). Devyn Pappas (68-70), Jake Lile (68-70) and Hugo Ronnberg (70-68) are each tied for eighth while Anthony De Schutter (75-71) is tied for 50th.
The third and final round begins Tuesday at 8:00 a.m. with a shotgun start at RidgePointe Country Club. Live scoring is available on Golfstat.com.
Bubba Barnett Intercollegiate
36-Hole Results
1 Arkansas State 270-271=541 (-35)
2 Thomas Schmidt 68-66=134 (-11)
T3 Pierce Johnson 68-67=135 (-10)
T3 Jack Maxey 66-69=135 (-10)
7 Chris Somerfield 68-69=137 (-8)
T8 Devyn Pappas 68-70=138 (-7)
T8 Jake Lile 68-70=138 (-7)
T8 Hugo Ronnberg 70-68=138 (-7)
T50 Anthony De Schutter 75-71=146 (+2)
Copyright 2023 KAIT. All rights reserved.