Arkansas State men's golf wins Bubba Barnett Intercollegiate for the 8th straight season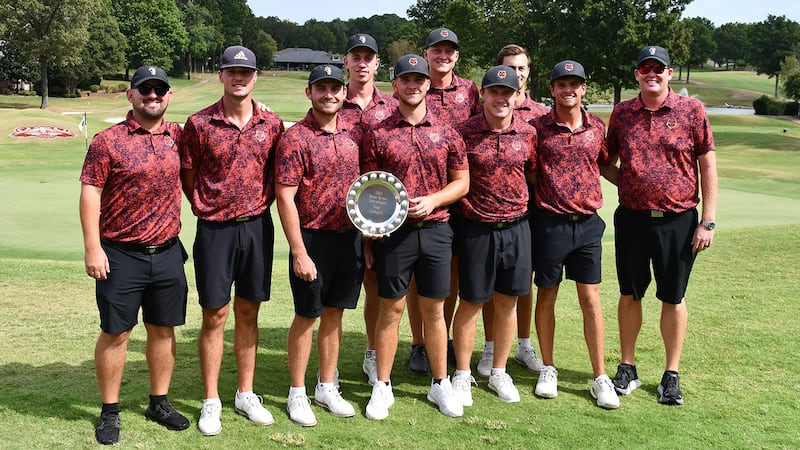 Published: Oct. 3, 2023 at 3:59 PM CDT
|
Updated: Oct. 3, 2023 at 6:48 PM CDT
For the eighth consecutive season, the Arkansas State men's golf team won the Bubba Barnett Intercollegiate played at RidgePointe Country Club.
Following a 36-hole record 35-under par Monday, the Red Wolves were 12-under par Tuesday to total 47-under par 817 for the tournament. At 47-under par, A-State was three strokes shy of the program record set in 2020 at the home event. A-State won by 13 strokes over Memphis (-34) while Jacksonville State (-30) finished third. Murray State (-19) and UT Martin (-16) rounded out the top five.
The tournament title is the 21st under ninth-year head coach Mike Hagen (2016-present), tying former head coach Neil Abel (1994-2006) for the most in school history.
Battling for individual medalist honors throughout the day, Thomas Schmidt placed third at 14-under par 202 (68-66-68), tied for the fourth-lowest 54-hole total in program history. Erik Jansson of Jacksonville State won individual medalist honors at 16-under par 200. Jack Maxey placed fourth at 13-under par 203 (66-69-68), tied for the fifth-lowest total in school history. Pierce Johnson gave A-State three players in the top-five placing fifth at 12-under par 204 (68-67-69), tied for the seventh-best total in program history.
Wrapping up his collegiate debut, Jake Lile placed tied for sixth at 9-under par 207 (68-70-69). Chris Somerfield was eighth at 8-under par 208 (68-69-71), Hugo Ronnberg was tied for 18th at 4-under par 212 (70-68-74), Devyn Pappas was tied for 27th at 2-under par 214 (68-70-76) and Anthony De Schutter tied for 67th at 8-over par 224 (75-71-78).
A-State continues its fall schedule Monday at the Oregon State Invitational played at Trysting Tree Golf Club in Corvallis, Ore. The first and second rounds are played Monday with the final round Tuesday. Live scoring will be available on Golfstat.com
Bubba Barnett IntercollegiateFinal Results1 Arkansas State 270-271-276=817 (-47)3 Thomas Schmidt 68-66-68=202 (-14)4 Jack Maxey 66-69-68=203 (-13)5 Pierce Johnson 68-67-69=204 (-12)T6 Jake Lile 68-70-69=207 (-9)8 Chris Somerfield 68-69-71=208 (-8)T18 Hugo Ronnberg 70-68-74=212 (-4)T27 Devyn Pappas 68-70-76=214 (-2)T67 Anthony De Schutter 75-71-78=224 (+8)
Copyright 2023 KAIT. All rights reserved.