Victims identified in fiery multi-vehicle crash on Highway 67
Published: Oct. 3, 2023 at 2:47 PM CDT
|
Updated: Oct. 4, 2023 at 8:19 PM CDT
JACKSON COUNTY, Ark. (KAIT) - Arkansas State Police released the names of two people killed in a fiery multi-vehicle crash on Highway 67.
A crash report from ASP stated that 68-year-old Thomas Blevins, of Logan, Ohio, and 55-year-old Terry Lutz, of Somerset, Ohio, both died in the crash.
According to a fatal crash report released by ASP on Wednesday, Oct. 4, the vehicles were traveling north at the 99-mile marker when smoke from a nearby field fire covered all four lanes.
As vehicles began to enter the smoke, a chain reaction crash occurred involving the 16 vehicles. All involved vehicles came to a final rest on or near the north lanes.
The report said the crash involved 5 commercial and 11 passenger cars.
Six other people were listed as injured on the report: 42-year-old Alfonso Hernandez, of Los Fresnos, Texas, 59-year-old Greg Redford, of Elkville, Illinois, 39-year-old Sara Guajardo, of Painesville, Ohio, 21-year-old Emma Vosburg, of Newark, Arkansas, 45-year-old Brittany Cricher of Newark, Arkansas and 42-year-old Eric Tharp of Newport, Arkansas.
Northbound lanes of U.S. Highway 67 near the 226 interchange were shut down following the multi-vehicle pileup on the afternoon of Oct. 3. All lanes were reopened shortly before 10 p.m.
WATCH: Drone video of the tragedy on Highway 67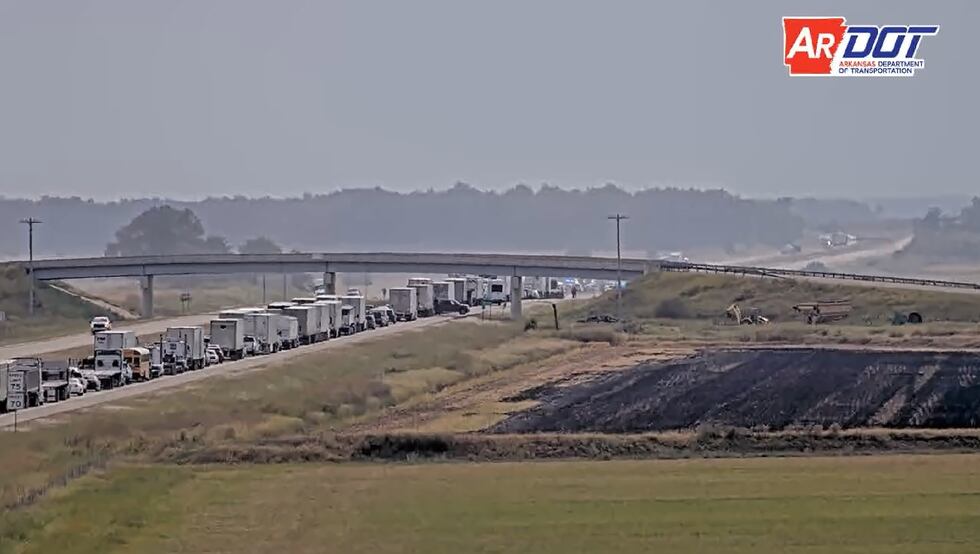 About three helicopters responded to the scene and K8 News Reporter Griffin DeMarrais saw them take off from the scene around 3 p.m. on Tuesday. Murphy said one person was airlifted from the scene.
K8 News will continue to follow this story for new details.
Copyright 2023 KAIT. All rights reserved.