Two arrested on drug, weapons charges while 'shooting dice'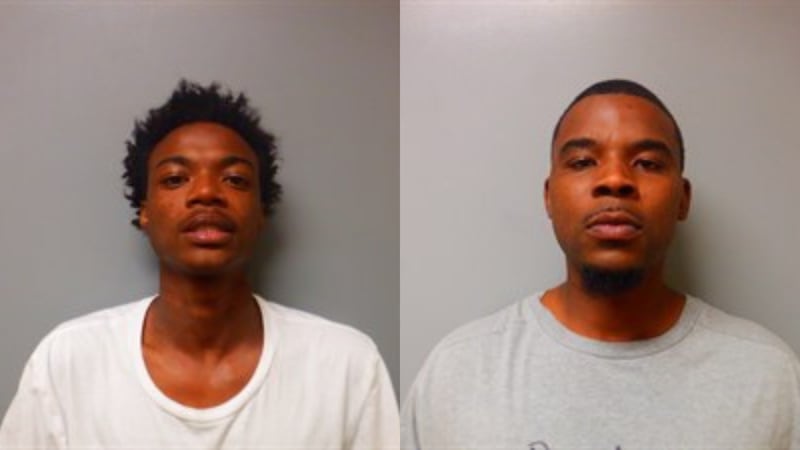 Published: Nov. 8, 2023 at 10:23 PM CST
JONESBORO, Ark. (KAIT) - Two men face felony charges after Jonesboro police said they uncovered several drugs and stolen firearms during an illegal gambling investigation.
According to the affidavit, officers responded to an apartment in the 2700 block of Curtview Drive around 8 p.m. Monday, Nov. 6, regarding suspicious activity.
When they arrived, police reported seeing four men bent over, "shooting dice."
The court documents said the officers also noticed an AK-47 rifle in the trunk of a nearby vehicle and an AR-15 pistol on the door steps of the apartment, as well as a Taurus 9mm handgun and money on the ground where the men were gathered.
When the officers approached the group, the affidavit said one of the men ran from the scene.
While attempting to identify all of the suspects involved, officers said they found a plastic bag on the ground containing 2.2 grams of suspected cocaine near 28-year-old David Clark. The affidavit noted that Clark was on parole for prior weapon charges.
According to the affidavit, officers observed one of the men, 21-year-old Fabian Gibson, attempting to slide the 9mm handgun under a vehicle.
Officers reportedly confirmed that Gibson had been convicted in August of 2022 of possession with purpose to deliver a controlled substance.
On Wednesday, Nov. 7, a judge found probable cause to charge Gibson with possession of a firearm by certain persons and Clark with possession of meth or cocaine greater than 2 grams but less than 10 grams.
Both men are being held on a $50,000 cash/surety bond awaiting arraignment in circuit court on Dec. 29.
The affidavit states all of the suspects interviewed denied knowing of the illegal items and claimed they all belonged to the man who fled the scene.
Copyright 2023 KAIT. All rights reserved.