A-State announces promotions for Alcorn State men's hoops, Arkansas women's hoops & Texas State football matchups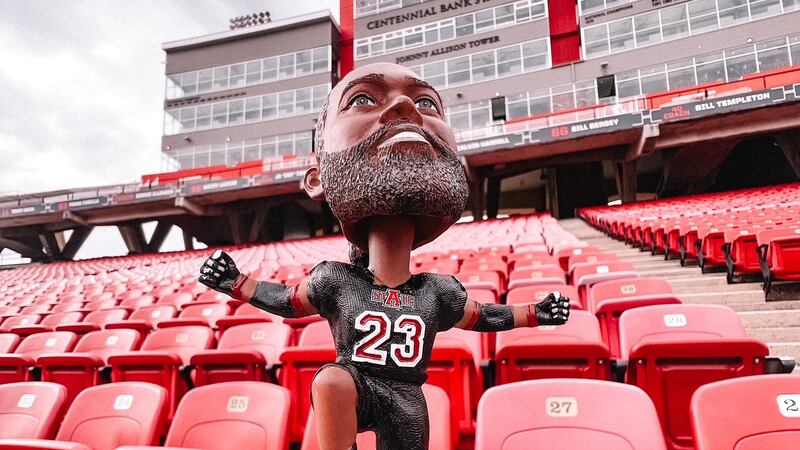 Published: Nov. 13, 2023 at 4:25 PM CST
|
Updated: Nov. 15, 2023 at 7:30 PM CST
JONESBORO, Ark. (KAIT) - It's a big week of sports on the Arkansas State campus.
The Red Wolves announced Fan Appreciation promotions for Tuesday's men's basketball matchup vs. Alcorn State, Friday's women's basketball matchup vs. Arkansas along with Saturday's football matchup vs. Texas State.
Tuesday 7:00pm: Arkansas State men's basketball vs. Alcorn State (First National Bank Arena)
Friday 7:00pm: Arkansas State women's basketball vs. Arkansas (First National Bank Arena)
- A ticket to either basketball game can be redeemed at ticket office for a ticket to Saturday's Red Wolves football game
Saturday 2:00pm: Arkansas State football vs. Texas State (Centennial Bank Stadium)
- Four tickets plus parking for $40
- 1,000 fans will receive a Demario Davis bobblehead. 250 vouchers will be given out in Tailgate City Saturday at 11:30am, then the first 750 fans through gate W2 will receive one.
A-State revealed more information on Saturday's home football finale.
A-State will recognize its senior class on the field prior to kickoff as part of its Senior Day activities, but fans are also encouraged to gather at Halsey Thrasher Harpole Tailgate City at Mike Watson Park to help celebrate the seniors at their final Red Wolf Walk as the team makes its way into the stadium at 11:45 a.m. Beginning at 11:30 a.m., fans can claim a voucher at the A-State Athletics tent in Tailgate City that guarantees them one of the 1,000 bobbleheads being given away. There will be 250 vouchers available, while the remaining collectibles of the former A-State and current New Orleans Saints linebacker will be issued to the first 750 fans through the stadium gates. The bobbleheads will be available through Gate W2 on the west side of the stadium. Fans who secure a voucher will need to redeem it at that location by 1:30 p.m. Additionally, starting at 1:30 p.m., the first 100 A-State students on the student deck will receive a free bobblehead with their student ID.
The game, sponsored by Hytrol, will have multiple ticket promotions tied to it as part of A-State's Fan Appreciation game. Fans can currently take advantage of a "Four-Pack" option, which includes four tickets in the lower or upper east stands and a parking pass for just $40. The Four-Pack may be purchased online at https://am.ticketmaster.com/arkstate/quickbuy?id=MTcx, by calling 870-972-3882 or by visiting the A-State Ticket Office located at First National Bank Arena's lower red entrance.
Arkansas State will also be honoring military personnel, veterans, first responders, healthcare workers and many others for their service to our communities and country as part of its annual Heroes Day. Game tickets for these groups are available online by visiting VetTix.org and 1stTix.org. Vet Tix is a program that provides donated tickets to all military members and veterans of the U.S. military, as well as immediate family members of service members killed in action. The 1stTix program, powered by Vet Tix, provides donated tickets to those currently serving and retired law enforcement officers, firefighters, EMTs, nurses and 911 dispatchers. Halftime will feature a recognition of the 2023 inductees entering the A-State ROTC's prestigious Hall of Heroes, as well as a performance by The Sound of the Natural State. A Contracting Oath will also be administered during one of the timeouts to cadets who have signed their Senior ROTC Contracts.
Arkansas State University is keeping student housing open until Sunday, Nov. 19, to accommodate students attending the Red Wolves' football game. Members of the football team and athletics administration will be in A-State's Carl R. Reng Student Union from 11 a.m. – 1:00 p.m. on Wednesday, Nov. 15, meeting with students and providing giveaways, promotions and refreshments.
Fans have the opportunity to not only take part in Red Wolf Walk and claim a voucher for a Demario Davis bobblehead in Tailgate City, but to also enjoy other activities in the area. The A-State men's basketball team will be in the Athletics tent visiting with fans and signing autographs from 11:00 a.m. – 12:30 p.m.
This season, for the first time, there are food trucks/vendors (Chick-Fil-A, Lost Pizza Co., Ray's Rump Shack, Ohana Hawaiian Snow) on the north side of Tailgate City near the Hijinx Kids Zone, which has an expanded area and includes more inflatables and activities. Tailgaters are welcome to bring their own grills and smokers or bring catered food from the restaurant of their choice with them. Of course, REVELXP continues to offer its turnkey tailgating services, and plots are available starting at just $50 by contacting 870-495-2335.
For Saturday's game, the Red Wolves Foundation will be partnering with several donors to elevate the game day experience to any fans wishing to participate. The Alpha Pack VIP experience begins at 11:00 a.m. with a tailgate at the ASU Pavilion that will include a live band, complimentary food, drinks and games, all within close proximity to Tailgate City. The cost is $50 for 21 and older or $30 for anyone under the age of 21. Patrons will also receive a parking pass and a lower level ticket to the game with each purchase. There will be limited availability at the tailgate entrance located at the ASU Pavilion on the day of the game. Anyone interested in purchasing tickets and picking up their credentials ahead of the game on Saturday should contact Brandon Cunningham at 870-972-3005 or bcunningham@astate.edu. The only other paid tailgating area on the Arkansas State University campus is Tailgate City. Fans have the ability to set up their own tailgate anywhere else on campus as long as it doesn't restrict the flow of traffic in a parking lot or next to various parking areas.
Copyright 2023 KAIT. All rights reserved.