ASU-Newport off to 3-1 start in inaugural basketball season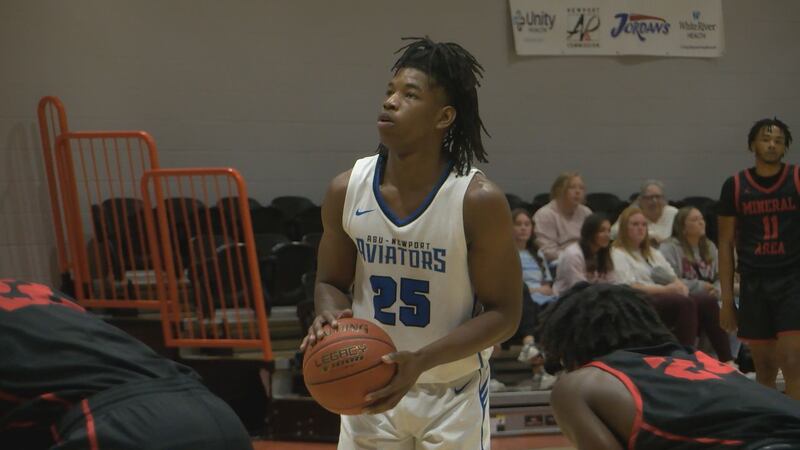 Published: Jan. 26, 2023 at 11:45 AM CST
|
Updated: Nov. 12, 2023 at 6:32 PM CST
NEWPORT, Ark. (KAIT) - ASU-Newport is in the midst of their first season of men's basketball and softball.
ASUN competes in NJCAA Division 2 Region 2 along with ASU Mid-South, ASU Mountain Home, ASU Three Rivers, North Arkansas, National Park College, SAU Tech, UA Cossatot, UA Rich Mountain, Northwest Arkansas CC, and South Arkansas CC.
ASU-Newport is one of the newest members of the National Junior College Athletic Association.
"This is a very historical moment for the history of this institution," Chancellor Johnny Moore said. "As Chancellor, there's not a day that goes by that I don't draw back from the skills that I learned from the basketball court to help me make decisions as chancellor. And I want to create that environment and create those opportunities for the students that we serve."
The school had some hurdles to leap before getting the ball rolling. First, finding a place to house the new teams, as well as a place to house the athletes playing those sports. The school does not have on-campus housing.
"Men's basketball is going to be playing at Newport High School, and then softball's going to be playing at George Kell Park," Athletic Director Brad Phillips said. "And then [working out] housing, where they're going to be living at, off-campus housing right now. Just trying to build what we can and it's going to be exciting times. We're working in the future to get some housing on campus."
Kevin Pearce will head the softball program. Logan Nutt, the son of former Arkansas State and SEMO head men's basketball coach Dickey, will lead the men's basketball program.
Both coaches say the recruiting pitch isn't too hard.
"You're going to be a part of history, a historic first-year team," Pearce said. You're going to get that first hit, that first home run."
"You're going to be able to be a part of history," Nutt echoed. "Being a part of the first ASU-Newport Aviator basketball team ever."
Copyright 2023 KAIT. All rights reserved.