Ellis has big 2nd half as No. 14 Arkansas holds off Old Dominion 86-77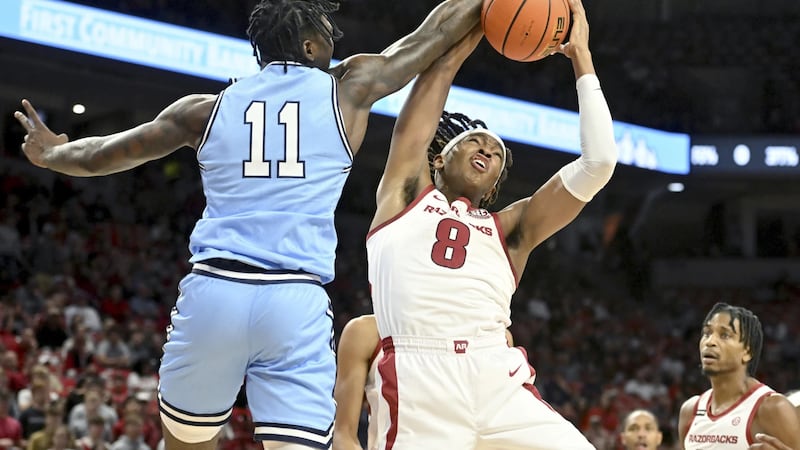 Published: Nov. 13, 2023 at 10:28 PM CST
FAYETTEVILLE, Ark. (AP) — El Ellis scored 15 of his 17 points in the second half, and No. 14 Arkansas held off Old Dominion 86-77 on Monday night.
With the Razorbacks (3-0) leading by five points midway through the second half, Ellis scored on a breakaway layup and followed with another after a crossover that left his defender flat-footed. That burst ended the first of several modest rallies by the Monarchs (1-2).
Devo Davis scored a season-high 16 points for Arkansas, Makhi Mitchell had 15 points and 10 rebounds, Khalif Battle scored 13 points and Trevon Brazile scored 11.
Chaunce Jenkins scored 21 points for Old Dominion, which went 11 of 24 on 3-pointers and got within three points in the second half. A late 8-0 run by Arkansas gave the Razorbacks enough cushion to get through the closing minutes.
Devin Ceaser added 18 points on 8-of-12 shooting for the Monarchs, and R.J. Blakney scored 14 points, going 3 of 4 on 3s.
BIG PICTURE
Arkansas wasn't as sharp as it had been in its first two games and one of last year's biggest issues — defending the 3-pointer — was once again a problem for coach Eric Musselman's squad.
UP NEXT
Old Dominion doesn't play again until Nov. 22, when it hosts Princeton.
Arkansas hosts UNC-Greensboro on Friday.
Copyright 2023 KAIT. All rights reserved.