Mizzou's Schrader named finalist for Burlsworth Trophy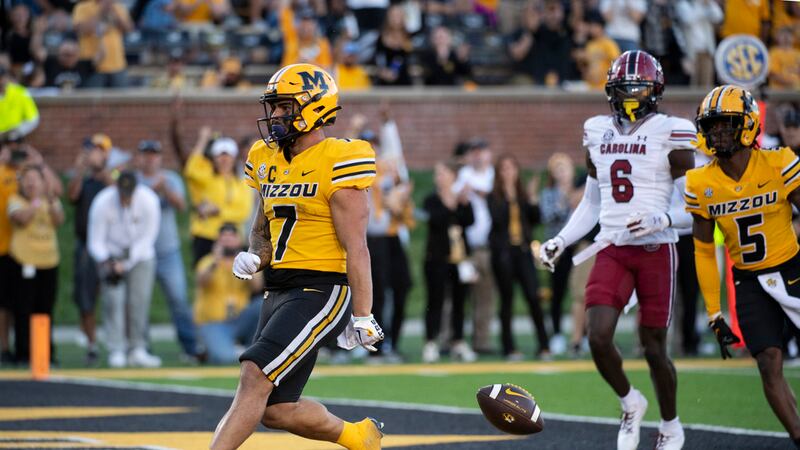 Published: Nov. 14, 2023 at 12:08 PM CST
HARRISON, Ark. (KY3) - Missouri running back Cody Schrader is one of the three finalists for the Burlsworth Trophy, honoring a college football star who once was a walk-on.
The award honors Harrison, Ark., native Brandon Burlsworth, who became an All-American after walking on at Arkansas. He died in a car crash shortly after he was drafted by the Indianapolis Colts in 1999.
The Burlsworth Foundation will announce the winner on December 4 at 7 p.m.
2023 Finalists:
Cody Schrader, University of Missouri, Senior – Running back
Schrader, a St. Louis, Mo., native, proved for three years he could dominate the NCAA Division II ranks. The 5-foot-9, 214-pounder has done very well against the SEC, too, giving Missouri an unexpected lift the past two seasons.
After leading the Tigers with more than 700 rushing yards last season as a walk-on transfer from Truman (Mo.) State Schrader has been even better in 2023, running for 1,124 yards and 11 touchdowns in 10 games. That is tops in the SEC for the Tigers, who are 8-2, overall, and 4-2 in the SEC, with two games left. In a 36-7 Week 9 home win over Tennessee, Schrader became the first SEC player and 10th player in FBS history with 200-plus rushing yards and 100-plus receiving yards in the same game. He finished with 321 total yards, and his 205 rushing yards marked the sixth time this season he's crossed the 100-yard mark.
The Lutheran High School South product was unheralded when he arrived in Kirksville, Mo., to start his collegiate career despite breaking numerous school records at Lutheran. However, after redshirting for the Bulldogs, he became a small-college star. In his final season in 2021, he ran for a Division II-leading 2,074 yards on 300 carries with 24 touchdowns, eclipsing the 100-yard mark five times.
Schrader, who carried a 4.0 GPA in his junior and senior years of high school, earned his college degree last December.
James Carpenter, James Madison University, RS Junior – Noseguard
Just as James Madison has shot up the ranks, so has the burly noseguard Carpenter. After dominating the NCAA Division I Football Championship Subdivision for years, the Dukes moved to the Football Bowl Subdivision last season and promptly earned a Top 25 ranking.
One of the reasons is Carpenter, who in the past two seasons, has burst on the national scene.
After 10 games this fall, he has 41 total tackles, 8 for loss, 4 sacks, and an interception for JMU, who is trying to finish the season undefeated with two games left.
Carpenter has landed on the Outland Trophy (Honors nation's top interior defensive lineman) and Bronko Nagurski Trophy (Honors top defensive player) watch lists and was a preseason All-Sun Belt First Team honoree.
The redshirt junior, who is 6-foot-2, 282 pounds, entered the 2023 season with acclaim thanks to a stellar redshirt sophomore season, which included 52 tackles (15 solo) to go with 11.5 tackles for loss, 5.5 sacks and three pass breakups. He had a career-high nine tackles against Marshall. He was selected to the All-Sun Belt Conference second-team defense.
The Roanoke, Va. native saw some action in 2020 and 2021 after redshirting in 2019. He graduated from JMU with a bachelor's degree in sport and recreation management and is pursuing a master's degree in adult education/human resource development.
Drake Stoops, University of Oklahoma, Senior – Wide receiver
The Oklahoma Sooners ran deep in Drake Stoops' blood long before he officially became a part of the program in 2018 as a wide receiver. The son of longtime legendary Sooners' head coach, Bob Stoops, turned down scholarship offers from Air Force, Iowa, Memphis, Ohio and Western Kentucky for then-OU head coach Lincoln Riley, who replaced his dad when he retired in the summer of 2017.
The three-star recruit from Norman North High School made his presence known early, playing in the first two games of 2018 as a walk-on and is believed to be the only Sooner in school history to record a catch as a true freshman walk-on.
Stoops, who earned a football scholarship in May of 2021, played regularly as a wide receiver/punt returner starting in 2019 and made 8 combined starts during the 2020 and 21 seasons but has made bigger contributions in his final two campaigns. After playing in all 13 games in 2022 and starting 10, (393 yards receiving and three TDs), Stoops has become OU's "go-to" receiver in his sixth and final season. As of Week 10, he leads OU with 62 catches for 692 yards (11.6 per catch) and 9 TDs.
Stoops, a 5-foot-10, 189-pounder, has not only risen to prominence on the field, but he has been an academic star since he was named to the Academic All-Big 12 Rookie Team as a freshman and has earned Academic All-Big 12 First Team honors every year since. Stoops has also earned a degree in communications and is pursuing a master's degree in human relations.
Past Burlsworth Trophy winners include:
• 2022 - Stetson Bennett, Quarterback - University of Georgia
• 2021 - Grant Morgan, Linebacker - University of Arkansas
• 2020 - Jimmy Morrissey, Center - University of Pittsburgh
• 2019 - Kenny Willekes, Defensive End - Michigan State
• 2018 - Hunter Renfrow, Receiver - Clemson
• 2017 - Luke Falk, Quarterback - Washington State
• 2016 - Baker Mayfield, Quarterback - Oklahoma
• 2015 - Baker Mayfield, Quarterback - Oklahoma
• 2014 - Justin Hardy, Receiver - East Carolina
• 2013 - Jared Abbrederis, Receiver - Wisconsin
• 2012 - Matt McGloin, Quarterback - Penn State
• 2011 - Austin Davis, Quarterback - Southern Mississippi
• 2010- Sean Bedford, Center - Georgia Tech
About the Burlsworth Trophy
The trophy is named in honor of Brandon Burlsworth. Without one D1 scholarship offer, Brandon walked on to the Razorback team in 1994, worked his way to being a three-year starter, and was eventually named an All-American in 1998. Burlsworth was selected as the 63rd overall pick by the Indianapolis Colts in the 1999 NFL draft but was tragically killed in a car accident 11 days later. The Burlsworth Foundation was created in his memory and supports the physical and spiritual needs of children, in particular those children who have limited opportunities. For a full narrative of the Foundation's work, visit brandonburlsworth.org.
To report a correction or typo, please email digitalnews@ky3.com
Copyright 2023 KY3. All rights reserved.