A-State freshman Rahel Broemmel qualifies for NCAA Cross Country Championships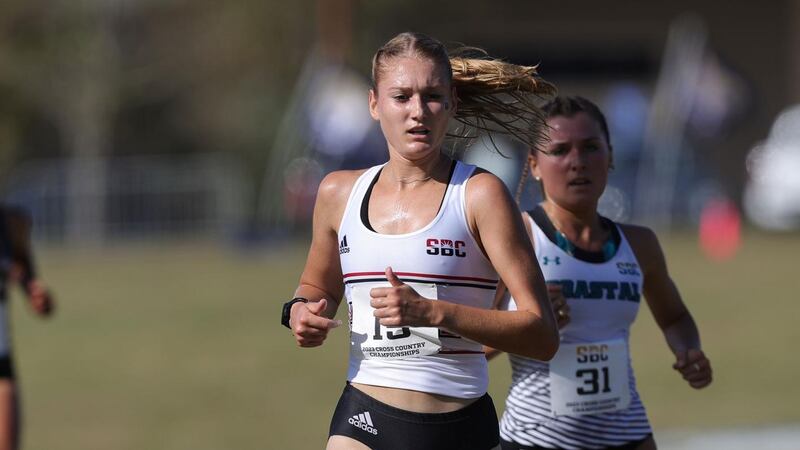 Published: Nov. 15, 2023 at 10:18 AM CST
Freshman Rahel Broemmel continued her dynamic debut cross country season, automatically qualifying as an individual for the NCAA Championships with a top-5 finish Friday at the NCAA South Central Regional Championships.
Broemmel clocked a personal-best time of 20:20.7 to place fifth in the women's 6K and advance as one of four individuals to the national meet held on Nov. 18 in Charlottesville, Va. Her fifth-place result is the highest regional finish by an A-State women's runner in program history, and she gives the Red Wolves a women's individual qualifier for the second year in a row after Jaybe Shufelberger qualified last season with a sixth-place finish.
After leading the Arkansas State women's cross country team to its fourth Sun Belt Conference title in five seasons, Broemmel and head cross country coach Jesse Duvall garnered postseason honors.
Broemmel earned a fourth-place finish to pace the women's squad and was tabbed the league's Freshman of the Year honor along with First Team All-SBC . The freshman standout led the charge in the women's 5K, clocking a time of 17:06.7.
Duvall's honor is his fourth Women's Coach of the Year honor and sixth overall. The 2023 season also marks the fifth consecutive year in which he has earned at least one of the two Coach of the Year awards.
Including Broemmel, 10 Red Wolves earned First, Second or Third Team finishes for the Red Wolves. Jaybe Shufelberger and Elizabeth Martin earned second-team finishes for the women, with Mary Beth Bailey finishing in third-team position.
On the men's side, Dawson Mayberry carded a first-team result, followed by second-teamers Jacob Pyeatt and Cash Kunkel and third-team honorees Rylan Brown, Nati Enright and Ethan Mychajlonka.
Copyright 2023 KAIT. All rights reserved.