Hodgson earns first career victory as Arkansas State downs Alcorn State 100-86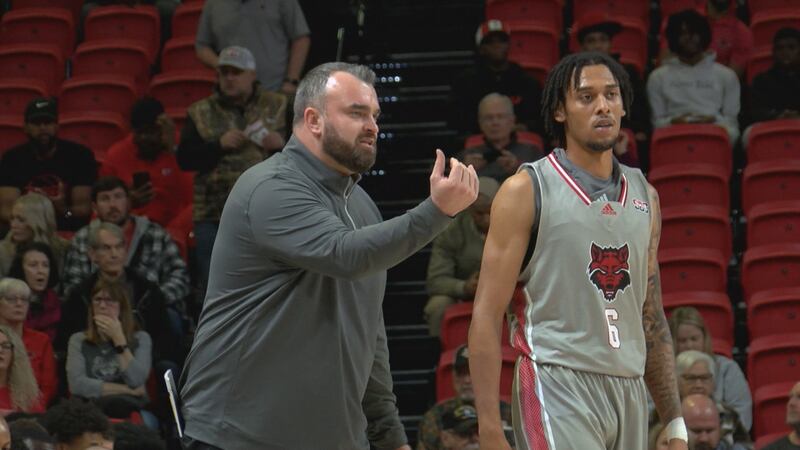 Published: Nov. 15, 2023 at 12:20 AM CST
JONESBORO, Ark. (KAIT) - Head Coach Bryan Hodgson's first career victory at the helm of the Arkansas State men's basketball program came in sharp-shooting fashion, with the Red Wolves knocking down 19 3-pointers in a 100-86 victory over Alcorn State Tuesday inside First National Bank Arena.
The Red Wolves (1-2) finished one trey shy of matching the school single-game record of 20 set in 2002, shooting 44.2 percent on a program-record 43 attempts from deep. A-State shot 52.3 percent overall, connecting on 34 of 65 from the field with 28 assists to just 10 turnovers.
All 10 players who played factored into the scoring column, with Dyondre Dominguez leading five double-figure scorers with 18 on 7-of-10 (4-7 3FG) with a team-high nine boards. Taryn Todd added 17 points and was one of five players with three or more treys.
Freddy Hicks dropped 14 points, while Zane Butler added 14 off the bench by going 4-for-7 from deep in his A-State debut. Avery Felts added 12 on four 3-pointers and Caleb Fields scored three points on a halfcourt buzzer-beater, but handed out a game-high eight assists.
The Braves (1-2) shot an even 50 percent on 28-of-56 and edged the Scarlet and Black in rebounding, 34-32. Jeremiah Kendall led all players with 18 points on 11-of-14 shooting with 14 rebounds.
A-State weathered an early 2-for-8 start to shoot 53.1 percent from the field in the first half, including 11 3-pointers, to own a 48-34 halftime lead. Dominguez scored 11 of his 18 points in the first 20 minutes, while Fields banked a halfcourt shot at the buzzer.
Arkansas State came out of intermission with tremendous energy, pushing its lead out to 16 on a dunk by Hicks, and then further expanding that lead to 21 on a Butler trey. The Red Wolves' largest lead of 28 came on a transition 3-pointer by Butler, forcing the visitors to call a timeout at the 10:01 mark with the score at 81-53.
Alcorn State closed on a 15-5 run, ending the game on a layup by Jalen Hawkins, who scored 13 points.
NEXT UP
A-State is back on the road for its next test, traveling to Big Ten foe Iowa Friday, Nov. 17. Tip-off against the Hawkeyes from Carver-Hawkeye Arena in Iowa City is slated for 7 p.m., with the game being broadcasted live on Big Ten Network+. The radio broadcast can be heard across the EAB Red Wolves Sports Network, including flagship station 107.9 KFIN in Jonesboro, as well as the A-State Red Wolves mobile app.
SOCIAL MEDIA
For the latest on the A-State men's basketball program, follow @AStateMB on Twitter/X and @astatemb on Instagram, while also liking the team's Facebook page at //Facebook.com/AStateMB.
Copyright 2023 KAIT. All rights reserved.