Arkansas State beats Georgia State in opening round of SBC Volleyball Tournament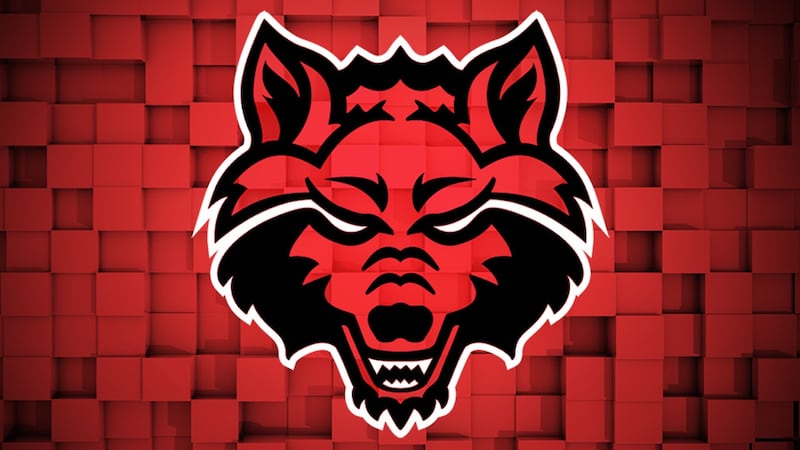 Published: Nov. 15, 2023 at 7:17 PM CST
Postseason play began on a strong note for the Arkansas State volleyball team, which ousted Georgia State 3-1 (25-16, 21-25, 26-24, 25-20) in the opening round of the Sun Belt Conference Tournament Wednesday.
A-State (16-13) served 10 aces and knocked down 14 blocks on the day – including a season-high seven rejections by Brianna Hollingshed. The Red Wolves' block party helped limit the Panthers (5-23) to a .110 hitting percentage. With the win, the Scarlet and Black has now won at least one match in 10 of its last 11 trips to the conference tourney.
Ilayda Dincer led the way with 15 kills and 10 digs with a match-high three aces. Kaitlin Whitlock added 14 kills, 18 digs, two aces and two blocks, while Yazmyn Billings knocked down six blocks. Sarah Martinez tallied a team-best 19 digs, with Erin Madigan adding 41 to go along with 41 assists and a pair of blocks.
The Red Wolves set the tone early, taking the first three points of the match and then pushing their lead out to 15-9 on a kill by Hollingshed which capped a 4-0 run. Kills by Billings and Dincer put the score at 20-14 and forced a timeout, which preceded a pair of GSU kills. A-State then closed the set with five consecutive points, clinching the 1-0 lead on an ace by Dincer.
Georgia State surged to a 4-0 lead out of the set break after a block by Erin Wyatt, who led all players with 16 kills. A-State then clawed back with six unanswered to lead 6-4. The Panthers later moved ahead but led by no more than four en route to evening the match at a set apiece with a 25-21 second-set win.
In the third set, the Panthers took another early lead, but a 9-1 run midway through the stanza pushed the Red Wolves back ahead 19-14. A kill by Whitlock gave A-State a set-point opportunity, which was saved on a kill by Akira Burt to extend the set, but the Red Wolves got a kill by Billings and an ace by Martinez to take a 2-1 lead in the contest.
A-State exploded to start the fourth set, taking a 6-0 lead and winning eight of the first 10 points. Georgia State would pull to within two throughout the set, but the Red Wolves maintained momentum and clinched the match with a 3-0 run that included an ace by Mia Maloney.
NEXT UP
The Red Wolves – seeded sixth in the West Division – take on East No. 3 seed Georgia Southern in the second round of the Sun Belt Conference Tournament. First serve against the Eagles is slated for 11 a.m. inside the Foley Sports Events Center in Foley, Ala., and will broadcasted live on ESPN+.
Copyright 2023 KAIT. All rights reserved.